Where to find some of the best markets in France
« Back to Articles - Date Posted: 24/06/2019 3:39pm by Alison Cummings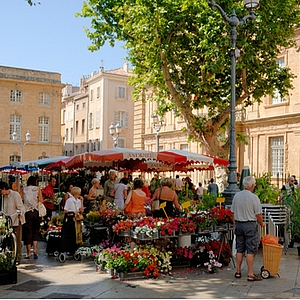 France is home to some of the most amazing markets in Europe. Whether it's a great antique bargain, wonderful local produce, or original vintage wares, there's always something for everyone. Almost all villages and towns have their own or a nearby market. Some of the best are listed here.
Lille
The Braderie de Lille flea market is the largest in Europe. Attracting over 10,000 exhibitors it is fantastic for snapping up a bargain. Although only window-shopping is allowed during the morning, selling begins at 2pm, leaving you plenty of time to get there. So many original pieces and antiques are on offer and the market is divided into smaller boulevards, the professional vendors and the larger streets where the huge vintage sales occur.
Nice
The Nice Flea market is a similar affair, but holds slightly higher quality goods, such as silver, ceramics or expensive vintage antiques and clothing. However, there is still chance to discover bargains amongst all this and its incredible location just behind the Promenade des Anglasis makes it the perfect location for casual shopping. Nice also holds the renowned flower market. This exudes an incredible array of flowers including violets, roses and mimosa at reasonable prices. As well as flowers, the market offers a variety of food stalls and is open every day of the week except Monday.
The Provence Olive market is equally infamous amongst both locals and tourists who flock there for its regional and local produce. The market is home to incredible fruit, locally sourced extra virgin olive oils and, of course, a variety of olives themselves.
Marseille
The Marseille fish market is also in Provence. Held on the quai des Belges on the old port, it is perfect for buying the catch of the day fresh from the boat. There is a variety of fish on offer, but the market is famous for its mullet, bream and grouper.
Bordeaux
Bordeaux is renowned for its wine, so naturally it boasts many wine markets. With every wine imaginable (at every price imaginable!) there is so much on offer in Bordeux.
The Dordogne
The gastromic markets in Perigeux of the Dorogne is the home of fresh produce. An amazing selection of cheeses, meats, vegetables, breads and sweet treats are available here.
The Auvergne
If you're a fan of cheese, make sure to visit the Auvergne's Farmers market. Famous for its dairy it particularly includes the sharp Cantal and their local blue cheese 'Fourme d'Ambert'.
Paris
Of course, one the infamous regions for French markets is Paris. The Bourquinistes is home to lines of booksellers on the banks of the Seine. With over 217 licenced vendors and around 300,000 volumes along 3km of stalls this is not a market to be missed for literature fanatics. Although many stalls now also sell Paris tourist memorabilia, there is still a chance to snap up a first edition or an amazing second hand copy at reasonable prices. Finally, if you are searching for a fashion market, look no further. The Le Marché Rétro d'Oberkampf is incredible for the latest looks and vintage fashion. Although this particular market is only open one day of the month, it is un-missable.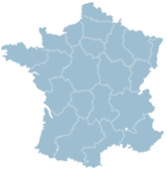 Select a location on the map to display properties within the region.