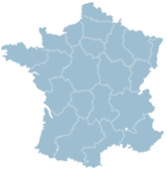 Select a location on the map to display properties within the region.
French Maison Links Page
Links to websites that provide information and services on France and the rest of the world, which may be of interest.
Please note that French Maison is not responsible for the content or services offered by these websites.
To link to French Maison please use the following:-

Description: A selection of beautiful holiday villas and gites in France, book direct with owners
URL : http://www.frenchmaison.co.uk
France
France Monthly
Fascinating information about 'La Belle France'
France monthly is also a free newsletter to which you can subscribe.
Painting Holidays in France
A relaxed painting holiday in France where you will have a lovely time painting, drawing and seeing the sites. Acquire new skills with an English artist in the Dordogne.
Discover France
Specialist in Active Vacations Exclusively in France
Cycling Holidays in France from Loire Life Cycling
Fantastic, self guided cycling holidays in the Loire Valley, France. Great routes, food and fun!
France Today
America's only monthly English-language publication dedicated to France. Now in its 25th year of publication, the Magazine of French Travel and Culture provides its readers with detailed travel advice, expert cultural reportage, informed political analysis and in-depth knowledge of modern French society.
Haven in Paris - Blog on Paris & France
The HiP inside scoop on Paris from those who live and play in the city of lights. From restaurants, happenings, art shows, suggested tours and concierge services, hot new spots, to French vocabulary and suggestions for slow travel in France & Europe. A blog that will help complete your stay in France and make it one you will never forget. Lots of great info on travel in France & Italy.
Paris Luxury Tours
Unique, private escorted tours of Paris, guided France tours and accompanied French wine tours. Personalized service with a broad range of fascinating tour features: accompanied tours of Paris, Normandy, Brittany, the Loire Valley, Provence, Champagne, Alsace, Bordeaux, Burgundy, Mont Saint Michel, Versailles, Chartres and Giverny, as well as various escorted French wine tours.
This French Life
Advice and information for people who want to live life the French way.
GetFrench.com
The website for people who love France
France Landscape Photography - by FranceInPhotos.com
A collection of French landscapes, villages, towns, waterways etc, suitable for tourism, magazines, postcards, greeting cards or advertising use.
Lavender and Sage
French Style Country Home Accessories
ProvenceBeyond
A great source for information on Provence and the French Riviera.
Information about France and the French
James Entreprise
French and English translation, bilingual websites (French and
English) and PC help, computer repair and maintenance.
France For Families
An online travel guide to family holidays in France
All French Services
Advertising portal for agents and private sellers of French properties, rentals, property management, and caretaking services.
Learn French
Learn French guide, all about how to learn French and how to speak French.
Travel
Bonjour La France
Helpful Planning for your Travel Adventure to France. 7000+ pages of information all in one place including the France Travel Map pinpointing 1000s of service providers all around France ready to serve you.
Car Hire France
Car Hire France from Nova at excellent rates. Great choice of locations with immediate confirmation on all reservations.
French Travel Planner
Over 700 links to sites in English to help plan your French vacation.
English to French Translation
English to French Translation of websites, literary and technical documents.
A Two Day, or one day Cookery Course in France
A fun hands-on two day, or one day cookery course in France, where you will have a great time learning new skills. Cook alongside the English chef in our magnificent kitchen.
Bordeaux Wine Experience
Specializes in luxury wine and culinary tours in the Bordeaux region. Week and day tours with tastings in France's most prestigious wine growing region.
Car Rental Poitiers Train Station
Car Rental Poitiers Train Station provide luxury car rental services at low cost and with large number of flexible car rental.
Rent a car in UK
Rent a car in UK from cheap car rental service UK and get luxury car at affordable price and you can enjoy the luxurious ride with us.
Accommodation and Property
France Perfectly Paris Vacation Rentals
Holiday flats in Paris and Montmartre for short term lets. Visit our selection of 1-3 bedroom apartments.
Long term lets and off-season rentals in France
Rent a place in France are specialists in lets of one month or more. We offer a wide variety of accommodation to suit all budgets and tastes, information to help smooth the way and personal service second to none. Book direct with the owner.
Quality holiday and vacation rental properties in France
Dordogne Homes, holiday and vacation rental properties in France. With listings of luxury self catering villas, gites and holiday homes available to rent in France.
Holiday Rentals Provence
Interlude en Provence offers a hand-picked selection of charming, high-quality holiday rental properties in the heart of Provence.
Paris Vacation Apartments
By renting one of our beautiful apartments, you will live like a Parisian and feel part of an authentic French neighbourhood.
Villa Holidays
Self-catering holiday villas with private pools in France
Paris apartment rental
Paris apartments - furnished apartment rentals, business or holiday stay in Paris
South Of France Properties
Bruce International provide luxury properties in the French Riviera and South of France region.
AbsoluteMarais - Marais apartment rental in Paris
Luxurious, modern, renovated one bedroom apartment rental in the Marais, near Place des Vosges and St. Paul, in Paris.
Haven in Paris
Furnished Luxury Vacation & Corporate Apartment and villa rentals Paris, Provence & Tuscany. Luxury Concierge Services.
Paris holiday apartments rentals
Paristay.com has selected for you the finest apartments in Paris near Le Louvre, St Germain des Pres or Le Marais. Many pictures, full description and review for studio to three bedrooms Apts.
Holiday in France - Self Catering Gite Rental Accommodation in Indre, Centre, France
If you are searching for very reasonably priced self catering holiday cottage rental accommodation in the centre of France, then we hope that one of our gites is just for you.
Susan Paradise
French villas and holiday houses to let, with pools, in Provence, Cote d'Azur and Brittany.
Simply Chateau
Chateau rentals in France are the best choice for families and friends looking for a French chateau holiday at the best possible rental price. With Simply Chateau you are booking your French holiday chateau directly with the owner.
www.france-on-line.info
Help for house hunters and new residents to France, long term rentals, holidays, links classifieds, useful information and email advice line.
Long Term Lets In France
Looking for a Long Term Let or holiday Gite in France? Connect directly with property owners today.
Marseille apartments
We offer a large selection of apartments in Marseille for vacation, short stay or long term rentals in central Marseille or near the Vieux Port, with front view on Mediterranean Sea. From affordable studio to large apartment or villa. From a week rental to monthly rent.
Luxury Villas France
View our 190 villas that cover most of France. Booking are made directly with owner and every villa is of a high standard.
Holiday Lets in France
Advertise your property in France free for 2009.
Nice Airport Hotels
Find hotels near Nice Airport!
France Hotels Reservations
Book online your business or holiday hotel stay in France.
Bordeaux Airport Hotels
Welcome to Bordeaux Airport Hotels! Our goal is to provide the best options for your hotel stay in the beautiful areas of Bordeaux, FR! Whether your trip is for business or pleasure, we strive to provide exceptional service from the start of our secure online reservation system to the last night of your hotel stay!
Buying a property in SW France? Tarn Property Services can help.
We search for you, find what you want, help and advise you throughout, help you to settle in and when you are here.
French Property
Browse and buy property all around France with francepropertyshop.com
HolidayCity Paris Hotels and Accommodation
Reservation for Paris hotels, accommodation, and apartments at discounted rates.
French Property Agency - Property for sale in all regions of France
Quality French properties for sale. Property in all regions of France. Genuine French real estate agents.
Property for sale in France
Properties uploaded from agents, updated daily.
Rest of the World
Travel and Language Directory
Worldwide Travel sites and Language resources. Hotel, airline, tourism bureaus, State Tourism offices, Language Schools, Dictionaries, Translators and more.
Expats Reunite
A useful site for all expats. International job section. Free name search to find lost friends. Play the UK Lottery from anywhere in the world.
Guide to Accommodation in China
A wide choice of hotel accommodation in Hong Kong from DirectRooms.com
Apartments in Rome
Accommodation in Rome, apartments and villas
Apartments in Florence
Accommodation in Florence, apartments, studio and villas.
Apartments in Venice
Accommodation in Venice, apartments, studio and villas
Will Go To Travel Directory
World travel directory and travel guide
Eurodestination.com
European city breaks, travel and holidays guide with news, reviews, forums, and promotional offers from top travel companies and suppliers.
Tuscany Villas
Travel Tuscany offers a wide listing of exclusive Tuscan villas and apartments for vacation rentals in Tuscany and Florence, Italy.
Book Flights
Book Flights online has made flight booking quite easy nowadays. The flyers can also book flights directly from online booking engine along with hotel and custom trip booking all at the same place. Book flights now and save yourself the hassle of travel agents or standing in long queues.
Spanish language schools Spain
Learn Spanish with one of Cactus Spanish language courses in Spain. We work with carefully-selected Spanish schools that offer Spanish courses for all ages and levels, with native Spanish teachers.
Roman Accommodations
Apartments in Rome by Roman Accommodations - Rent directly from the owner your apartment in Rome and Sorrento.
Hotel in Brisbane
Ultimate guide to discount hotels.
Book a North Cyprus Holiday
Select from a great range of Northern Cyprus Holidays and get a fantastic deal on packages.
Bizeurope
Europe's leading trade portal.