Walking in France | A Guide
« Back to Articles - Date Posted: 07/04/2017 9:35am by Alison Cummings
It's easy to see the attraction of holidays spent largely on foot. There can't be any better way to escape modern life and explore local landscapes close up and at leisure. France, in particular, has a wonderfully varied terrain, and its appeal to visitors from the UK is absolutely timeless. So why not build in at least some time for walking on your next French holiday?
You could find yourself making your way through the spectacularly pretty villages of rural Provence, or remote Alpine trails. Alternatively, trek some of the country's spectacular coastline, either in Brittany or the south of France.
While there's something to be said for booking organised walking tours, planning your own hikes could be easier than you'd realised. What's more, you'd have the freedom to walk where you want, for as long as you like, stopping as the fancy takes you. Use the 1:100,000 maps relevant to the region where you'll be staying to get a feel for the best major trails (called Grandes Randonnées). If you can get hold of the 1:25,000 maps, you'll get a more detailed feel for local tracks and footpaths.
Cicero publishes authoritative guides in English covering much of France's best walking. If you can read French, the French Walkers' Federation and Rando Editions produce French language books. For sheet maps, try the Institut Géographique, which also has downloadable ones for GPS. You'll also find maps widely available in bookshops once you get to France, and lots of further information online.
While private land in France has no automatic rights of way, there are lots of forest trails, quiet country tracks and lanes, and these are all used as footpaths. Look out for the following main types of path:
• Grandes Randonnées (GR) marked with red and white parallel flashes
• Grandes Randonnées du Pays (GRP) marked with yellow and red parallel flashes • Local footpaths that just have one yellow flash
Local tourist offices can advise if you need to get to your starting point by bus, while the SNCF website means you can book any train tickets required in advance online.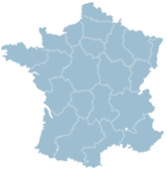 Select a location on the map to display properties within the region.