Top tips for your Provencal get away
« Back to Articles - Date Posted: 07/01/2016 12:38pm by Alison Cummings
Provence is a beautiful part of the south of France. Boasting incredible sights and attractions, exquisite restaurants and charming vineyards, this delightful region is a hot spot for visitors and those searching for a relaxing holiday. If you're planning a stay in one of France's most versatile locations then consider these top tips for a superb holiday in Provence.
The best time to travel
Provence is a stunning place to visit all year round, however, you will find that July and August is peak tourist season in the region, as well as being very hot. Spring is an ideal time to visit Provence as the weather is slightly cooler, fresher and attractions are far less crowded. You will still need to book accommodation early to ensure you're not disappointed. From September to March, many attractions may be closed or shut early, so do your research if you're planning on making a visit during this time.
The best attractions
Provence has an array of wonderful things to see and do. In particular, the lavender fields are a striking feature of the region. Tour a lavender farm to discover the romantic scenery and inhale the delicate aroma. The best time to view the lavender fields are between June and August, when they are in bloom. Valensole Plateau is where you'll find several fields of lavender. You can also view how lavender oils and perfume are manufactured straight from the fields.
Those tourists who prefer more adventurous activities will enjoy hiking around Europe's deepest canyon, Gorges du Verdon. Appearing truly beautiful in summer, this hike is probably best for the more experienced walker. However, the emerald green waters, landscapes and nature make it an incredible sight to immerse yourself in.
Marseille is the second biggest city in France and not a location you'll want to miss. From small, narrow lanes to large stone houses, the city also hosts a variety of market stalls with French produce and fish, as well as several retailers setting up home in the city. There are also several fantastic restaurants to enjoy a dish of authentic French cuisine.
Where to eat
For traditional French cuisine by a Michelin starred chef, head to Alexandre. Located in Nimes, dine on delicious steak or relish a sauce based dish. Though it's expensive, it's a sophisticated dining experience. For those on a budget, enjoy La Maisouneta at Chateauneuf-du-pape and sample a refreshing glass of the finest French wine with a hearty pasta dish.
Accommodation
See our quality Holiday Villas in Provence and book stunning Villas in some incredible locations.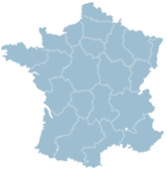 Select a location on the map to display properties within the region.