Top Ten Tastiest French Cheeses
« Back to Articles - Date Posted: 29/08/2018 3:06pm by Alison Cummings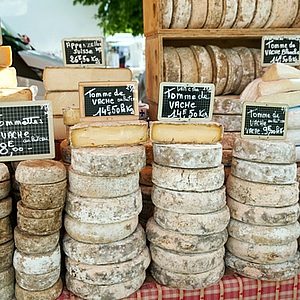 France is renowned for its great food and fantastic wines, but if there's one thing the French are famous for, it's their cheeses. Whether you prefer cow's milk varieties or a goat's cheese, blue-veined versions or soft, white ones, there's bound to be at least one French cheese to suit your tastes. Let's take a look at the top ten French cheeses, to help you find your favourite.
1. Maroilles - Hailing from the Nord-Pas-de-Calais and Picardy regions, Maroilles is a cow's milk cheese, famous for its strong-smelling rind. Despite the odour from the waxy, orange coating, Maroilles is a mild but flavoursome cheese which is ideal with bread and is also delicious when used in cooking for tarts, quiches and even omelettes.
2. Vacherin du Haut-Doubs - Also made in Switzerland, where it is typically sold as Vacherin Mont d'Or, this tasty cow's milk cheese comes from Jura and the Swiss border country. Unlike Swiss versions, French Vacherin is usually unpasteurised. Soft and buttery-tasting Vacherin du Haut-Doubs is a seasonal product, made only during the winter, when the cows can be found on lower ground, due to the harsh weather conditions higher up in the mountains. Enjoy it with warming red wine or sweet whites.
3. Epoisses - Epoisses cheese comes from the Burgundy region of France and is washed first with salt-water, then in Marc de Bourgogne, a local liqueur, during the ripening process, giving many layers of flavour. Rich yet salty, Epoisses was first made by monks in the Abbaye de Citeaux. Favoured by the culinary connoisseur Brillat-Saverin, Epoisses is best enjoyed with a strong, sweet ale or beer, crusty bread and fruit.
4. Crottin de Chavignol - Crottin de Chavignol is a delicious white cheese which comes from the Loire Valley. Made from goat's milk, this cheese comes in both firmer and softer consistencies, depending on how long it is allowed to mature. A young Crottin de Chavignol is quite firm and has a nutty flavour, while riper varieties are softer and richer. Whether you opt for a young version or a more mature Crottin, this cheese is a really flavoursome choice and will be delicious with a cold glass of Sancerre, which is produced nearby, in the Eastern part of the Loire valley.
5. Pont L'Evêque - Rather like a Brie or a Camembert in texture, Pont l'Evêque is a soft white cheese with a smooth, yellowish rind and is named after the village in the Basse Normandie region, where it is produced. Pont l'Evêque is rich and creamy, and is best enjoyed with fresh bread or savoury biscuits, and with a full-bodied red wine.
6. Tome de Provence – Tome de Provence is a goat's cheese that is made using an ancient cheese-making technique to produce a soft, creamy taste. Made in the warm climate of Provence, this small round cheese is delicious with fresh, fruity wines which cuts through its delicious richness.
7. Pélardon - Pélardon comes from the Cévennes area of the Languedoc-Roussillon region of France and is a soft, creamy cheese with a crusty white mould. Like many of the cheeses in our top ten, the production of Pélardon follows strict criteria and only varieties made in the local area, according to accepted processes of manufacture, can be sold under the name of Pélardon. This slow-ripened cheese is made from pure goat's milk and has a sweet, nutty flavour.
8. Bleu d'Auvergne - This tasty cheese from the Massif Central region, around the Puy-de-Dôme and Cantal areas, is the pick of the French blue cheeses. Milder and more creamy than a Roquefort, the Bleu d'Auvergne is made from cow's milk and is mould-ripened, creating its characteristic blue veins and strong scent. The cheese has a subtle grassy flavour and a tangy edge which makes it perfect for salads. Bleu d'Auvergne can also be enjoyed with bread or biscuits, and is fantastic with fruit and sweet wines.
9. Cabécou du Perigord – Another tasty goat's cheese, Cabécou du Périgord comes from the Midi-Pyrenees region of France. Rather unassuming in appearance, Cabécou has an orangey-white rind and a firm, creamy centre. This cheese is best eaten quickly as it matures rapidly and will quickly become over-ripe. Fortunately, with its smooth goat's cheese flavour, Cabécou du Périgord is unlikely to hang around very long!
10. Emmental de Savoie – An Emmental de Savoie is a tasty and versatile choice, which is delicious with bread or in sandwiches. This unpasteurised semi-hard cheese is quite similar in appearance and flavour to Swiss varieties of Emmental, sharing the sweet, nutty flavour typically associated with this kind of aged cow's milk cheese. Great for cheeseboards, as well as grilled on bread or toast, Emmental de Savoie is not to be missed if you're in this part of the Rhônes-Alpes region.
Wherever you're heading in France, there's bound to be a great regional cheese to be tried, so test them all out and be sure to try some of these recommendations during your next trip.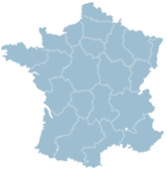 Select a location on the map to display properties within the region.