Top Summer Festivals in France
« Back to Articles - Date Posted: 29/07/2019 9:46am by Alison Cummings
The French summer is teaming with festivals, both music and others, perfect to incorporate into a French summer getaway, or even just to visit for their own merits.
Les Choregies d'Orange
The oldest French festival, dating back to 1860. This incredible opera festival is held in the Roman theatre, making both atmosphere and acoustics perfect. The theatre holds up to 9,000 spectators, so the environment is amazing and this year boasts 'La Traviata' concerts and some featuring Tchaikovsky. It stretches from the 11th July-4th August, so there is plenty of time to take in a concert as part of your summer getaway. l
The Nice Jazz festival
Equally popular, running for over 60 years and being one of the largest Jazz gatherings in the world. In the past it has been host to Jazz legends Herbie Hancock and Louis Armstrong and the lineup is always amazing. Running for the shorter span of 8th-12th July, jazz enthusiasts will not want to miss out on this incredible festival.
Paris Arts Festival
An annual summer spectacular, with open-air concerts, circus performers and film screenings, this is perfect for a frequenter of higher culture festivals. The performances are spread across the stunning Jardin des Tuileries and the Jardin du Luxembourg. The programme will be announced on 12th June but the festival itself runs from 15th July-9th August, allowing you to spend as little or much time as you like at this event.
Vieilles Charrues Festival
For those who like their festivals a little less high cultured, there are some amazing mainstream and rock music festivals held across France. The 'Vieilles Charrues' Festival in Carhaix is one of France's biggest music festivals. This year Arctic Monkeys, Franz Ferdinand and Elton John take to the stage, plus many more. Held from the 17th-20th July it is perfect for mainstream music lovers.
Hellfest
For hardcore rock fans, 'Hellfest' in Clisson is host to Iron Maiden, Avenged Sevenfold and Black Sabbath this year. Running from 20-22nd June, this festival is incredible, but not for the faint hearted!
Main Square Festival in Arras
Boasting music from all genres, three of the most notable acts this year are Iron Maiden once again, Jack Johnson and MGMT. Although these three could not be more dissimilar in terms of genre, that is the beauty of this festival, encompassing everything from heavy rock to alternative.
Braderie de Lille
If you wish to be immersed in all the festival action, but do not necessarily want the music, the 'Braderie de Lille' is perfect. This is still a festival, but simply boasts the world's largest flea market, which dates back as early as medieval times. Held at the end of summer between 5th-6th September it is an annual event in Lille with over 100km of stalls and would be perfect to round off your summer.
Whether you want to go for the day, the whole weekend, or come and go from various events, France has an abundance of incredible festivals to offer in its summer months.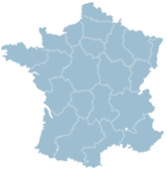 Select a location on the map to display properties within the region.