Three great reasons to visit Provence
« Back to Articles - Date Posted: 18/05/2017 11:20am by Alison Cummings
From the art and culture to the wonderful gastronomy and renowned beautiful weather, the South of France makes the perfect destination for either a short break or a longer summer holiday. With a wealth of historic buildings, breathtaking scenery and fun activities, there's something to please even the youngest members of the family. If you're having trouble deciding how to spend your time, then just read on – we've come up with a list of our absolute favourite things to see and do in Provence, which will hopefully make planning your holiday that bit easier.
For the antiques and vintage lovers
Provence is famous for its large and varied markets; from homewares and clothes to fresh fruits and vegetables, there's something for everyone. Anyone who loves vintage and retro items though, should make sure they set some time aside to explore the flea markets that happen all over the region on several days a week. Eagle-eyed bargain hunters heading to Arles on the first Wednesday of the month will find a wealth of vintage clothing, from full skirts to brightly coloured shawls, while the Saturday morning market in Avignon is the ideal place to head if you're more interested in crockery than clothes. Do take the time to check in advance if the markets are running, though, as there are occasionally cancellations.
For the outdoor types
With its spectacular scenery, breathtaking mountains and expansive forested areas, Provence is one of the best places in France to visit if you're keen on spending time surrounded by nature. Ideal for anyone who likes to get their heart rate going with a walk or hike, there are miles and miles of trails and paths that take in the nature reserves, villages and valleys, while any horse riders will enjoy trotting or cantering through the many lakes and canyons. If you're an adrenalin seeking type, spend a little time embarking on adventures in white water rafting or climbing with a company based in the Verdon, who provide visitors with a team of professionals to accompany them on activities that will leave the heart racing and the blood pumping.
For the history buffs
While France might be most famous for the spectacular Paris architecture such as the Eiffel Tower, Provence has a few jewels of its own that will please any history fans spending time in the area. The Aix Cathedral in Aix-en-Provence is an impressive Roman Catholic building, which includes architectural elements from numerous periods, and features exquisite carvings, decorations and stained glass windows, and the Basilica in St Maximin la Sainte Baum is another fine example of a religious building that deserves a visit. With its links to great artworks and artists throughout history, it's no surprise that there are several galleries and museums in the area; the gallery dedicated to Vincent van Gogh in Arles, which is housed close to the yellow house where he lived with fellow artist Paul Gauguin.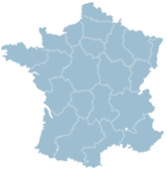 Select a location on the map to display properties within the region.