The Loire - perfect at any time of year
« Back to Articles - Date Posted: 28/05/2013 2:39pm by Alison Cummings
Thinking of spending your next holiday in the centre of France? Renting a gite in the Loire Valley is perfectly fitting with the atmosphere of the region, and you cannot fail to feel relaxed among the scenery, the architecture and the endless farmlands, vineyards and orchards throughout the region. Beautiful, but not overrun with tourists, the Loire Valley is perfect at any time of year.

The Loire Valley
The perfect divide between the North and South, the Loire Valley is an ideal holiday location. The Loire Valley is a region in the centre of France just overflowing with options for excursions and day trips. Characterised by historical towns and stunning architecture, it is a region that is bursting with fruit orchards, vineyards, and vegetable fields which line the banks of the Loire River. The central part of the Loire Valley has been named a UNESCO World Heritage site, due to the incredible architecture of the fairytale chateaux that are dotted around this area. History enthusiasts could spend forever strolling around the many historical towns in the region. The influence of the river keeps the winters mild, and also lets a light breeze spread over the region to cool down the hot summer months. Discover the beauty of the river by travelling in a barge across the regions famous canal bridge. Take in the spectacular landscapes of the region from the top of the Chartres Cathedral. Each season, this region seems more beautiful than the last, and it is an ideal location for a family holiday.
Renting a Gite in the Loire Valley
Staying in a gite is the perfect way to enjoy this region. With plenty of freedom to come and go as you please, spend one night dining on French cuisine in a rustic restaurant, then spend the next night cooking with the fresh produce of the region. If you are on a budget, even the more basic gites are equipped with everything you will need for a comfortable and enjoyable stay. A gite is a very popular choice in the Loire Valley, especially if you are driving to the region. The atmosphere of the warm, welcoming gites perfectly compliments the rustic atmosphere of the region and the tranquillity of the countryside is best enjoyed in the peace of self-catered accommodation. If you are looking for more luxurious accommodation, try renting a luxury gite or a villa in the Loire Valley and enjoy the use of a private swimming pool to cool down in the heat of the summer months.

So whether you are staying in a villa or a cottage or a gite in the Loire Valley, you can be sure to have an amazing holiday, taking in the cuisine, the fresh, fruity local wines, and the architecture. This beautiful region of France can be explored and enjoyed at your leisure from the convenience of rented accommodation so stay in a gite or a villa to fully make the most of your stay in the Loire Valley.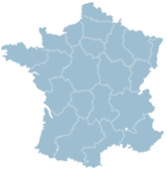 Select a location on the map to display properties within the region.