The Local's Guide to the Dordogne
« Back to Articles - Date Posted: 24/01/2016 7:46pm by Alison Cummings

Dordogne in the south east of France is one of the most beautiful regions in the country. Boasting some of the most exquisite towns in this part of Europe, Dordogne is bursting with character and charm.
The most well-known towns include Sarlat, Domme and Bergerac. With an array of attractions dotted all over the region, there is plenty of activities to explore.
Sarlat
Sarlat is possibly the most visited town in Dordogne, rich in medieval history with quaint ancient buildings and stunning monuments. Located in the heart of the Dordogne region, Sarlat has over 250 listed buildings and the town centre is the ideal place to start an exploration adventure. Here, you'll find small cafes, chapels and a cathedral. Place de la Liberte boasts a range of beautiful townhouses and the town hall, while the Place du Marche aux Oies features the Gisson Manor; a 13th century townhouse and a geese market. Those arriving in Sarlet on Saturdays can experience the local market with cheese, meats and fruit on offer to purchase.
Bergerac
Close to the bank of the Dordogne River, Bergerac is also an old town with medieval history. North of the river are elegant boutiques, cafes and restaurants, while Saint Jacques Church is situated in the main square; Place Pelissiere, which has a pretty bell tower and balcony. Rue Saint James features a striking 14th century building and the Dordogne river bank is the perfect place to enjoy a relaxing picnic while watching the world go by.
Domme
Located on the top of a hill, the small village of Domme overlooks pretty countryside landscapes. A bastide town with some of the most beautiful views in Dordogne, this location has a large gate which must be entered in order to gain access to the village. Containing historical artefacts, you can even view huge towers next to the entrance gate, where prisoners were kept in the 14th century.
Elsewhere in Domme, you'll find gift shops, old houses, cafes and hotel. The walk up to the top of the hill is well worth the exercise as you'll be able to take in impressive views of the surrounding areas, including the very picturesque Beynac. Another attraction worth a visit are the mighty Domme caves. With beautiful rock formations and a glass fronted lift able to carry passengers up the cliff, these caves are a great way to explore the village on a warm day.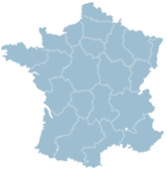 Select a location on the map to display properties within the region.