The Carnaval de Nice - the biggest winter event in France
« Back to Articles - Date Posted: 22/01/2014 1:27pm by French Maison
One of the major carnivals in the world and the most prominent winter event on the French Riviera is the Carnaval de Nice, held every February. Nice itself is an extremely popular city, with its stunning coastline and amazing variety of attractions, the winter carnival alone drawing in over a million visitors.
This annual extravaganza is hosted on the Promenade des Anglais and is the birthplace of carnivals in France. It was established in 1294 and was the first French carnival. The celebrations span over two weeks and include three extravagant parades. The 'carnival parade' boasts phenomenally huge floats and characters dressed up according to the theme of the year. This is coupled with a variety of acts on street level: dancing and music from around the world join the floats on their journey around the Promenade. The parade is not only in daylight, the celebrations continue after sundown, with the 'parade of lights' where the streets come alive with luminous floats and spectacular lights.
If you don't fancy huge floats and dancers, there is also the exuberant 'flower parade', where floats adorned with many varieties of flowers pass through the Promenade. This vibrant display of colour includes one of the most striking features of the whole carnival: the infamous 'flower battles'. Hundreds of different kinds of flowers are thrown into the crowd, many of them locally sourced. Throwing flowers into the crowd has been a tradition for many years, but when the modern carnival was born in 1872, the tradition was to throw eggs and flour at each other. Thankfully, the tradition has changed somewhat since then, now making the streets of Nice home to flying flowers!
The Nice carnival has something for everyone and is amazing value with two events for just 35€ and children for just 5€. This is certainly an event perfect for injecting a bit of colourful life into the winter season.
See a selection of places to stay in and around Nice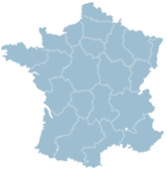 Select a location on the map to display properties within the region.