The Best of Autumn in France
« Back to Articles - Date Posted: 30/10/2013 1:34pm by Alison Cummings
France is one of the most beautiful countries in the world, boasting endless attractions for any visitor - and autumn is arguably the best time to visit. Whether you are interested in the food, art, nature or culture, September, October and November are excellent months to visit this wonderful country. This article will explore some of the best things to do around France between summer and winter.
Provence:
Autumn is the perfect time to rent a villa or cottage in Provence. The changing of the seasons means that there will be lots of fresh produce available in the markets - cheese will be at it's finest after a summer of grazing for the cows, and a myriad of fruits and vegetables will be perfectly ripe and ready to be made into the finest French cuisine. The beautiful natural sights are enhanced by the magical changes in foliage and lighting in this majestic region.
French Riviera:
Think you can only enjoy the Riviera during the summer? Think again. The coastline still sparkles as the temperature drops. Enjoy sunny spells on the beach, and when it gets cool head indoors to one of the many amazing art museums for different angle on one of the best regions in Europe.
Paris:
After the bustling summer months, Paris becomes more tranquil in September and October. The heat will have quelled, and Parisians will be back at work after returning from their vacances. Pack your chicest jacket and stroll through the lovely parks and squares, unhurried by flocks of tourists. You may even get to enjoy some serious discounts at your favourite venues as the high season officially ends.
Bordeaux or Burgundy:
Head into wine country and take a tour of the vineyards, which are at their peak at the end of summer. Choosing to visit during the autumn means you'll get to see the harvest as it occurs, then no doubt enjoy some of the finished product. Take your pick of one of these excellent areas: both are fantastic spots to recuperate in a private villa after a busy summer.

No matter where you go in France, you'll find that September and October are excellent months to kick back and drink in the beauty all around you. If you cannot decide what to do, why not rent a holiday home and a car so you can explore your favourite French destinations like a native.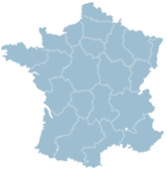 Select a location on the map to display properties within the region.