Surfers Paradise? Think France!
« Back to Articles - Date Posted: 30/01/2014 1:26pm by Tom Cummings
The Gold coast does host some of the most famous surf spots in the southern hemisphere, but you don't have to fly half way around the world to find miles of a surfer's dream playground.
France might not be well known for its surfing but it boasts some of the best spots in the world. Hidden away you can find private beaches or popular areas with the locals for a summer in France not to be forgotten.
Here we show some of the hottest locations for a day riding the waves with your friends or catching the latest pro competitions. We have also recommended a selection of popular villas near each location.
Top 5 spots...
Estagnots
Having hosted the ASP World Championship Tour in 2007, this is one of the all time favourite spots in the Hossegor region to grab your board. This stretch produces some fantastic hollow left hand waves on practically most tides. What makes this place so popular is the consistency of the conditions with the sandy banks only slightly changing from year to year. With the eco-friendly surf camp Surfinn Hossegor only 10 minutes away and wonderful conditions, this spot is not to be missed.
Where to stay
This modern and vibrant property in the picturesque town of Anglet is only a short drive from Estagnots.

La Gravière
This is one of the most reliable spots in the Hossegor area with shifting peaks and moving banks. During the autumn and winter only the most experienced surfers will try to ride the heavy, hollow waves. However, the summer allows for a calmer experience and is enjoyed by many all rounders. Quicksilver Pro is hosted here once a year and is one of the must go events in the area.
Where to stay
This spacious, sleek contemporaty and luxurious holiday villa in Biarritz is perfect for groups of family or friends.

La Sauzaie
La Sauzaie is the most recognised wave in the Central France region, producing short but heavy barrels. The WQS Pays de LA Loire Surf Pro (www.aspeurope.com/) is hosted here annually and attracts pro surfers from around the globe. Perfect conditions make this spot a popular place to start your surfing career.
Where to stay
A unique rural retreat in the heart of Vendée with its own private garden and natural wood finishes.

Lacanau
The Lacanau Pro has been held here since 1979, which puts this spot on most surfer's wish list of places to go. Miles of consistent, powerful and hollow beach breaks mean it's spacious and you always know you're going to be able to ride with confidence. Lacanau is well known for its big waves, so you need to bring experience. But not to worry if you are not a pro, as it can also produce small to medium swells.
Where to stay
An 18th century farmhouse offers 2 acre space of gardens and a private pool.

Lafitenia
Lafitenia has been attracting surfers of all standards since the Quicksilver World Masters in 2000 and is always growing in reputation. Located on the French Basque Country, it was always a quieter destination than the more crowded area of Hossegor. What makes Lafitenia so special is the different types of sections, which produce different challenges for surfers of all standards. Get yourself down here and you won't be disappointed!
Where to stay
A holiday apartment overlooking the mountains with plenty of activities nearby, in case you need a rest from surfing.
View our regional guides for more getaway ideas.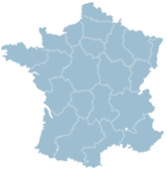 Select a location on the map to display properties within the region.