Pays de la Loire - up close to nature
« Back to Articles - Date Posted: 15/12/2013 1:30pm by Alison Cummings
Pays-de-la-Loire is a region on the coast of France to the west of Paris. Rent a gite or a villa in Pays-de-la-Loire this year for a chance to get closer to nature and witness the lush forests, winding rivers and the sandy beaches.

Pays-de-la-Loire is ideal for a relaxing holiday break, and there are plenty of activities to keep you occupied during your stay here. Along the coast, why not try sailing or any other water sports you choose? While you are inland, go cycling, pony riding or walking in the lush, green forests.

Fortunately, Pays-de-la-Loire is blessed with an excellent climate with mild springs and autumns, comfortably hot summers and gentle winters which makes spring and autumn particularly good times of year for all the sporting activities that are available here. The diverse range of landscapes and varied agriculture that goes on in this rich and beautiful region can be explored for hours at a time. If you want to soak up the sun while the kids are taking advantage of all the activities that are available in the region, then the perfect spot for you is sure to be here along the never ending coastline. Stay in a French holiday rental to enjoy all that this region has to offer.

Take a break from the range of activities and make time to enjoy the capital city of the region. Nantes is the sixth largest city in all of France. As an old urban sea port back in the eighteenth century, Nantes acquired a great deal of wealth which is apparent today in the city's architecture and heritage. The stunning sea front and châteaux in the city centre and surrounding area makes Nantes a very attractive tourist attraction. Various festivals take place in Nantes and the rest of the region all year round, and there is always something exciting going on! Head to a charming French restaurant to enjoy the local pork dishes, cheeses and butter biscuits.

Rent a gite or a villa in the Pays de la Loire region of France for a holiday that the whole family will enjoy. Enjoy relaxing in a convenient and comfortable home for the duration of your holiday, and let your rented accommodation be a base for you to explore the entire region. Pays-de-la-Loire is incredibly easy to get to from the United Kingdom, so drive down to your rented gite or villa for all the freedom you could need to get to know the region. Treat your rented accommodation as a home while you are there and enjoy being able to cook your own meals, and relax in comfort.

If you choose to rent a gite for your holiday base, the owners often live close by and are on hand if you need anything. There is a large number of French holiday gites and villas in the region so you will have plenty to choose from.

Enjoy the natural beauties and the exciting city in the Pays-de-la-Loire region while staying in a gite or a villa on your family holiday this year for a relaxing and vibrant experience that will keep you coming back for more!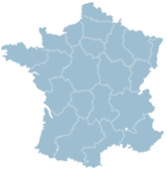 Select a location on the map to display properties within the region.