Nord-Pas-de-Calais - a home away from home
« Back to Articles - Date Posted: 01/04/2013 7:22pm by Alison Cummings
Nord-Pas-de-Calais is a northern region of France which borders on Belgium. Though it is not one of France's more obvious tourist destinations, it draws people in with it's beautiful countryside and excellent cuisine. Gites in Nord-Pas-de-Calais are very convenient to get to from the United Kingdom, and offer a warm comforting place to return to after a day enjoying the historical landmarks. With a climate that is not dissimilar to England's, a gite will be a relaxing and cosy home for you on your holiday in Nord-Pas-de-Calais.
History enthusiasts will find all the material they need in this region, having been occupied by German forces during both of the world wars due to it's mining resources and proximity to England. Along with the history you can discover on your Nord-Pas-de-Calais holiday, the scenery along the Liane River will delight you for as long as you wish to stroll along the banks. The city of Lille is the capital of the region and is also a cultural centre of France. Most of the sights are within walking distance of the city centre, and with an old town, cathedrals, two main squares and museums, this city has plenty to keep you busy, all the while enjoying the beautiful architecture. Lille really will add something to your holiday, and the city also has plenty of entertainment for the evenings with exquisite restaurants, plays, and bars for later on. Not only is the region famed for it's excellent cuisine, notably seafood from the north coast of France, but it also is home to some very fine local beers to enjoy in a country restaurant or from the comfort of your chosen rented accommodation.
Gites in Nord-Pas-de-Calais
Staying in a rented gite in Nord-Pas-de-Calais really is the best way to enjoy this region. The rustic scenery perfectly compliments the cosy cottage style gites, and the wild and untamed greenery along the Liane River is the perfect backdrop to this charming scene. After a day of soaking up the history and the nature, what could be better than returning to a warming fire and a glass of a local wine or beer. After your drive here, someone will be waiting to greet you and make you feel at home. Everything is accessible to you here, and you can take your time to enjoy this region. At any time of year, a home is waiting for you here. During the cool winters, take refuge in the cosy restaurants and warming museums. Wrap up warm and enjoy the hills and woods at their best during the blustery spring and autumn months. Enjoy lazy summer days strolling around towns and soaking up the culture of the region.
However you wish to spend your time in Nord-Pas-de-Calais, a rented gite is a great start to making this a perfect holiday. Happily situated among the green surroundings, enjoy the comfort of staying in a home away from home on your holiday this year, and discover all that Nord-Pas-de-Calais has to offer.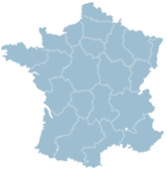 Select a location on the map to display properties within the region.