Is this a good time to buy a home in France?
« Back to Articles - Date Posted: 05/02/2014 11:07am by Alison Cummings
Pound hits 12-month high versus euro, but may struggle to rise further
Three cheers for the pound! There's great news if you're planning to buy a home in France, because sterling reached 1.2243 against the euro last week, its highest since January 10th 2013. What this means is, when you transfer your savings to France, get more euros than any time in the last 12 months.
However, if you plan to buy a home in France, it could be worth getting your skates on to transfer your money, or lock in the foreign exchange rate at these heights with what's called a "forward contract." This is because it looks like the pound will struggle to rise further against the euro. Here's why:
1. The Bank of England looks unlikely to raise interest rates. Central bank chief Mark Carney recently said the UK was a "well short" of a full economic recovery, and that interest rates would need to stay at record lows of 0.5% "for some time". This will hold down the value of the pound.
2. The UK's manufacturing sector expanded at its slowest pace in 3 months in January. UK factory output "dipped a touch" last month, says ING's James Knightley, which casts doubt on whether the UK economy can maintain the blistering-hot pace it's managed the last 6 months. This will also weaken sterling.
3. Unemployment in the Eurozone fell -129,000 in November, the most since April 2007. Meanwhile, the euro looks set to gain, because the Eurozone's economic outlook is finally brightening. For instance, more people in the currency bloc found work at the end of 2013 than any time in more than 7 years.
4. The Eurozone's public deficit fell to just 3.1% last year, close to the legal limit. What's more, the common currency may also climb, as the Eurozone's profligate governments are at last spending less. The bloc's deficit hit 3.1% between July and September 2013, just +0.1% above the sanctioned limit.
Given this, sterling is on top for now, but it may not be before long! This could be worth bearing in mind if you're planning to buy a home in France.
By Peter Lavelle at currency broker Pure FX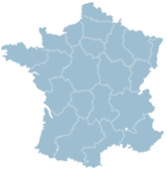 Select a location on the map to display properties within the region.