How to Spend the Perfect Weekend in the French Countryside
« Back to Articles - Date Posted: 01/03/2016 2:45pm by Alison Cummings
If you've found the perfect French villa for your holiday, perhaps you're wondering how you can relax and enjoy the magnificent sights that the French countryside has to offer. A getaway should boast relaxation alongside culinary pleasure, so if you are curious or pondering your itinerary for the perfect weekend in the French countryside, here are some fantastic suggestions to add to your list.
Make the most of your surroundings
A villa or holiday home close to the French countryside is the ideal setting for a relaxing weekend. Even if you love to explore the outdoors, an evening spent unwinding in your holiday home can allow you to become immersed in the beautiful picturesque scenery. Why not enjoy a glass of refreshing French wine while watching the sun set in the garden, or whet your taste buds with a delicious outdoor barbecue and experience alfresco dining in your outdoor surroundings.
Enjoy a long stroll
Whether you are an athletic person or prefer less spritely activities, a long, leisurely stroll is the perfect way to spend a morning or afternoon in the French countryside. Explore the local flora and fauna or simply take heed of the charming views. Packing a tasty picnic and finding a cosy spot to sample your food and beverages provides you with the chance to immerse yourself in the delightful landscape, before you make the journey back to your villa.
Relish a French treat
If you're planning to explore the local village, then stopping by a bakery or café can really whet your appetite. From croissants, pastries and bakes to finer dining, most towns offer quaint and appetising dishes for you to relish. Have an entertaining evening in a restaurant or a scrumptious breakfast to give you fuel for the day ahead.
Be active
The French countryside is bustling with a variety of activities. Take a hike, rent a bicycle or if the weather is pleasant then buy a kite. If there is a river or lake nearby to where you're staying then you'll most likely discover a wealth of water activities like swimming or sailing to participate in.
An architectural experience
As well as boasting rural delights, you'll normally find wonderful pieces of architecture in some of France's countryside hotspots. Marvel at ancient buildings, from churches to other historical attractions. It's the chance to capture a few incredible images on your camera!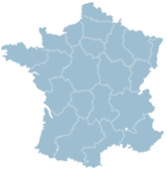 Select a location on the map to display properties within the region.