Fun family forays in France
« Back to Articles - Date Posted: 02/04/2014 4:16pm by Alison Cummings
If you're planning on travelling to France with young children and need excursions or activities to keep them occupied and entertained, there's more than just Disneyland Paris to keep them happy. Whether you're looking for open spaces in which to play, theme parks or water based attractions, you'll find plenty to amuse children of all ages.
Theme parks
France is home to a huge number of theme parks, all with their own unique personalities. If you're visiting Paris and fancy doing something completely different, head to La Mer de Sable: a huge stretch of natural sand that features rides, shows and entertainment for all the family. It is just a 45 minute drive from Paris, and was France's first theme park, having opened in 1954. Parc Astérix, an Asterix-themed theme park, Futuroscope and historical theme park Puy du Fou in the Loire are also well worth a visit.
Water, water everywhere
Whether it's the seaside, water parks or simply amazing swimming pools that you're looking for, you'll find plenty of water-based attractions all over the country.
Aqualand have eight water parks all over the country, with each featuring 20 rides on average, plus beaches, pools and activities to suit all ages. Alternatively, those visiting Le Touquet with kids might enjoy a visit to Aqualud: a glass pyramid with indoor pools and slides, and an outdoor water park that is open during the warmer months.
Open air swimmers will love the Plan d'eau biotope - a man made swimming lake near Chamonix that has no chemicals, allowing you to swim with no chlorine sting amongst the mountains. For the best beaches in the country (in our eyes!), see our blog post on the subject. http://www.frenchmaison.co.uk/articles/lifes-a-beach-spectacular-seaside-breaks-in-france-53/
Museums and exhibitions with universal appeal
Taking children to museums can be tricky, as they have a tendency to get bored easily. However, France has plenty of museums whose subject matter will appeal to children of all ages.
Which child wouldn't love a trip to the Haribo Sweet Museum in the southern town of Uzès? Older children may be interested in the history of Haribo, while younger ones will be enchanted as they watch Gold Bears being made. In Paris, football fans will love the Stade de France tour, and the Musée de la Magie lets kids experience magic tricks for themselves. Little girls may also love the Musée de la Poupée: a doll museum on the Impasse Berthaud.
Fragonard will give you a guided tour of their perfume factory and shop either in Eze or Grasse, while one of the best Languedoc museums for children is the Meze Dinosaur Museum.
Out and about
If you simply want to get out and enjoy the great outdoors with your children, there is a huge range of options available. Even the large cities are home to some spectacular parks, which have play areas and open space for children to release excess energy. You'll also find places like Parc-en-Ciel in Lot-et-Garonne: essentially the French equivalent to Go Ape, with zip wires, tree climbing, rope swings and plenty more.
Whatever your children's interests, you'll find plenty in France to keep them entertained - and you'll no doubt find that your kids are a good excuse for you reliving your youth too!
Follow Alison Cummings on Google+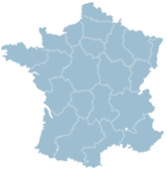 Select a location on the map to display properties within the region.