French summer holidays - why even teenagers love it!
« Back to Articles - Date Posted: 16/05/2017 9:43am by Alison Cummings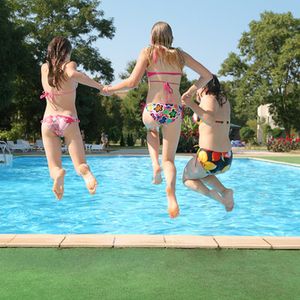 It's every parent's worst holiday nightmare....a begrudging teenager, dragged along on a family holiday. As a country where culture and sport collide, France offers something really special for teenagers, a melting pot of festivals, sports, music and fashion. Here are just 7 of the many opportunities France can offer to a teenager on holiday…
1. First up are the famous French jazz festivals. Jazz festivals are far more popular and modern on the continent than in the UK, and if teenagers aren't a fan of the music yet, they will be once they've experienced the intoxicating spirit of one of the French jazz festivals – some of the best to look out for are in Nice, Antibes and Grenoble.
2. Secondly, although a family holiday may not seem to fit in easily with nightlife, the typical café-bars will be a perfect blend for parents and teenagers. The café-bar is an inextricable part of the French "mode de vie", and nearly all towns have at least one. They are a perfect place for teenagers to hang out over a game of pool and a beer or two, and anyone over the age of 14 is allowed in with a parent.
3. Obviously, no trip to France is complete without a shopping break for the teenage girl. France has managed to avoid some of the globalisation of the clothes market that other European countries have endured, so there are smaller, individual boutiques selling fashion (prêt-à-porter), as well as the "marché", a staple of nearly all large French towns. For more chic shopping, even outside Paris, French style at its best can be found in any modish resorts – especially in Cannes and Nice.
4. For the more pro-active teenager, there is always "Parapente" – an amazing sport that originated in France, the parapente a little like a parachute but more controllable, and there is no need for a plane ride - a long run up off a high point is adequate. Not for the faint-hearted, but an amazing buzz for the adrenaline junkie teenager. Tandem flights are probably the best way to go, as that way there's a lot less training and it's cheaper. More info at Fédération Française de Vol Libre - ffvl.com
5. If you prefer to watch sports rather than take part in them, then France can offer that in abundance too. The tour de France is arguably one of the greatest feats of sportsmanship that the world has to offer and a holiday in the French countryside with teenagers in July should always be organised to catch a leg, as even the most apathetic adolescent can't help but be excited by the atmosphere that rivals even that of the London marathon. Even better, you don't need a ticket, and it's a perfect opportunity to meet people. More info at letour.fr
6. Cycling is also a perfect sport to get involved with in France as well as just watching it. Many of the roads and routes in the countryside aren't very strenuous and France is much more suited to cycling than England. Cycling equipment and bikes can be hired nearly anywhere, so donning a cycling helmet and getting involved with the great outdoors has never been so easy or so fun.
7. At the other end of the spectrum, France also boosts a large range of spas and treatments. France is dotted with natural water sources, which have developed into therapeutic spas. Vichy still leads the way, but Dinard and Biarritz are hot on its heels. Worth a special mention is "Thalassotherapy", which originated in France and is the newest Hollywood trend where the use of sea water in various treatments. Well worth a visit.
In total, there really is no reason not to see France as the perfect holiday for teenagers and their families – its time to have the holiday of a lifetime. What are you waiting for?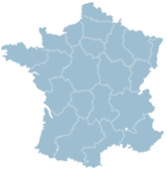 Select a location on the map to display properties within the region.