France on the big screen
« Back to Articles - Date Posted: 07/05/2017 9:46am by Alison Cummings
France is the birthplace of modern day cinema, with many artistic and influential movements beginning here. The industry began in the late 19th and early 20th Century's and today France's film industry is one of the highest grossing, and most renowned in the world.
From its inception, French cinema has always pushed the boundaries and included several prestigious cinematic moments. This included 'La Nouvelle Vague', where filmmakers would engage their work with the most influential social and political upheavals of the era, which caused plenty of controversy considering it began in the early days of cinema. Auguste and Louis Lumière were the founders of cinématographe', with the introduction of this in Paris in 1895, which was considered to lay the foundations of world wide modern day cinema. At the start of French cinema the Lumières themselves fronted one of four major French cinema companies, including Pathé Frères, the Gaumont Film Company, and the Georges Méliès company.
France also boats many prestigious film festivals, including perhaps the most revered in the world: the Cannes Film Festival. Although world wide releases are also included in the line up, many categories in the festival showcase up-and-coming French directors and films. In recent cinema, one of the most striking films has been 2013's 'Blue is the Warmest Colour' directed by Abdellatif Kechiche. This coming of age film about a young gay woman was met with glowing critical reviews, unanimously winning the Palme d'Or from the official jury and the FIPRESCI Prize.
Of course, one the most commercially received French films of all time has been Amélie, starring Audrey Tautou. This incredibly heart warming tale of a naive young girl in Paris has been seen all over the world and was the highest grossing French speaking film to be released world wide.
France also produces many films that do not receive mass viewing or appeal, but are still absolutely breathtaking. The 2012 film 'De rouille et d'os' (Rust and Bone) was one of the independent films at that year's Cannes Film Festival and not widely released at the time. It is the story of an unemployed man with a passion for kick-boxing who falls in love with a killer whale trainer, who suffers from depression after a horrific accident. It competed for the Palme d'Or that year, and although it did not win, it did receive a ten minute standing ovation after its screening! It was the only French film of recent times to be shown at London's popular Rooftop Film Club and was subsequently nominated for two Golden Globes, two BAFTA's, nine César Awards and a Screen Actors Guild Award, where it claimed four.
La Règle du jeu is considered one of the most, if not the best, French film of all time. It was banned on its original release after being deemed 'too demoralising', but Jean Renoir's masterpiece encapsulates almost every genre and filming technique. From realism and fantasy, to comedy and tragedy in equal measure, given this sensational film, it is apparent as to why France is so revered for its cinema.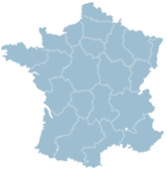 Select a location on the map to display properties within the region.