France by bike: Not Just for Chris Froome!
« Back to Articles - Date Posted: 05/06/2017 1:08pm by Alison Cummings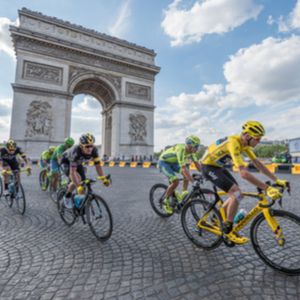 You don't have to compete in Le Tour to enjoy an exciting cycling trip through France. In fact, France is known as one of the best countries in the world to explore by bike: there are safe trails for every skill level. Whether you're just starting out or are an experienced cyclist, the extensive network of voies vertes, or greenways, will enable you to explore the beautiful French countryside at your own pace. No matter if you're traveling alone, with friends or children, a cycling tour of France is an experience you won't soon forget. Here are the top four best regions for cycling in France:
1. Pays de Loire - Ideal for Families
Pays de Loire boasts 800km of riverside greenway, nicknamed La Loire à vélo. Spanning beautiful countryside and charming towns, this route is touted as one of the easiest in France, with plenty of traffic-free paths, signposts to guide you and stages of no more than 40km. Choose this region to sample the cultural and culinary highlights of Pays de Loire with your family.
2. Pyrenees - Serious Cyclists Only
Looking for an adventure? The Pyrenees will challenge even the most athletic cyclist. Conquer the steep slopes and curves of the mountain roads and be rewarded with some of the most breathtaking views in France. Join the ranks of legendary cyclists as you push yourself to new limits across the snow-capped peaks.
3. Burgundy - Leisure-Seeker's Paradise
Burgundy has some of the best-travelled and most extensive cycling routes in France - it's an ideal choice for those who want to enjoy a little bit of everything. Stick to the greenways or follow routes over disused railway lines, mountain trails, and vineyard paths: no matter what you fancy, cycling in Burgundy is relaxing and fun. Enjoy gourmet food, wine and top-notch hospitality whilst you indulge in the pleasures Burgundy has to offer.
4. Luberon - A Great Getaway
Ride through the hills of central Provence and drink in most beautiful landscapes in the entire country. Bask in lavender fields for instant tranquility or test your willpower with an attempt to scale Mount Ventoux; visit ancient Roman ruins or enjoy a picnic in the Luberon Valley. This is the ultimate destination for history buffs, nature-enthusiasts and luxury lovers alike.
Biking through France is a great way to explore all the country has to offer. Get the most out of your cycling holiday by booking your own gite or villa in any one of these fantastic locations.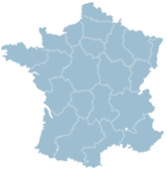 Select a location on the map to display properties within the region.