Five Amazing Reasons to Make France Your Next Holiday Destination
« Back to Articles - Date Posted: 14/01/2016 11:24am by Alison Cummings
France is one of the most popular tourist destinations in the world. Boasting exquisite restaurants, magnificent scenery and spectacular attractions, it's easy to see its appeal. However, if you're having doubts as to why you should visit this incredible country, here are five amazing reasons why you should make it your next holiday destination.
It's family friendly
Not sure if France is suitable for children? There's no need to worry as there are many attractions that are completely family friendly, such as Montpellier Zoo in the south of France. If you're visiting the countryside, you'll find plenty of leisure activities for all ages, including cycling and walking. There's also plenty of accommodation options too like villas and holiday homes, which are equipped for both young and old.
French wine
The wine capital of the world, you can't mention France without giving a nod to its impeccable wines! A trip to one of the finest vineyards is always well worth a visit and you'll discover the best of the best in Bordeaux. Relaxing with a glass of refreshing vino is the perfect way to end a day on your excursion.
The history and culture
Frances boasts numerous sites on UNESCO's World Heritage list, as well as a multitude of art galleries, museums and architecture proving popular with tourists. A few beautiful spots to look out for include the north east of France, where you'll find areas around Burgundy infused with Roman history, Dijon, which has impressive art work and medieval architecture, and Luberon with its rich, exciting character.
Diversity
Whether you're searching for a relaxing countryside break or an action packed skiing holiday, you'll find it all in France. From the French Alps to the south of France, there is something for everyone. If you enjoy the hustle and bustle of a city or the more serene location of a rural village, there are a variety of options for tourists to explore.
The food
France is well known for its delicious cuisine. From gourmet dining to prefect pastries, there's a massive selection of culinary treats to appetise most taste buds. Head to quaint village bakeries to sample the best bread, croissants and tarts. Alternatively, the finest restaurants serve up a tasty experience with foie gras and ratatouille among the most famous French dishes on the menu.
See our collection of beautiful holiday properties in France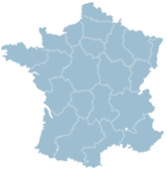 Select a location on the map to display properties within the region.