Digging for Gold Sand: Exploring Brittany's Beaches
« Back to Articles - Date Posted: 30/05/2017 4:57pm by Alison Cummings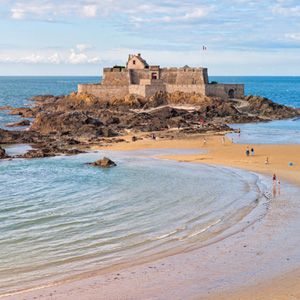 There are many great holiday destinations which boast perfect sandy beaches as far as the eye can see, yet there are few which can beat the inspiring region of France that is Brittany. This incredible area is made up of hundreds of miles of coastline and therefore is prized for its spectacular and beautiful beaches.
Interestingly, Brittany offers a diverse mixture of natural sandy beaches and others which are situated in charming seaside resorts such as Benodet and Dinard. Brittany therefore caters for a great variety of holidaymakers who seek traditional culture and tourism or seclusion and relaxation. There is a great selection of holiday rentals close to these fantastic beach settings which can be rented but be sure to book early to ensure that you get a place.
Dinard
Dinard is located across the Rance estuary from St Malo and is home to a charming bay and picturesque beaches which certainly make this western side of the estuary worth visiting. 19th Century villas look down over the bay and Dinard's immaculate beaches are perfect for relaxing and dreaming on. It is often called 'the Cannes of the North' because it attracts high profile individuals and yet anyone can still feel comfortable and at home here when basking in the sun. There are many great coastal footpaths for you to explore and areas like the Pointe du Moulinet offer unimaginable views of St Malo.
Carnac
Carnac is extremely popular in the summer months with holidaymakers and is comprised of two centres, the beach resort of Carnac-Plage and Carnac-Ville. Carnac has five beaches in total which stretch for almost 3km overall. Arguably the most beautiful of the beaches are Beaumer and the Plages Men Du which are located near La Trinite. Surrounding these spectacular beaches sits Carnac's towns which provide a space to relax and take time out from the beach when the heat increases. The area is also a haven for exploring history and culture as many choose to visit the impressive stone alignments which are situated not far from the town centre.
Quiberon Peninsula
The Quiberon Peninsula shores are known as great walking spots which also hide on its eastern side calm and sheltered sandy beaches which are truly stunning and perfect for a spot of sunbathing. On the western side of the Peninsula you will find an untamed coast which is a great place for surfing as enormous waves are created as the shore is battered by the sea. Surrounding the bathing beaches of the Quiberon Peninsula are traditional cafes and other attractions to keep you entertained when you decide to take a break from the beach.
Benodet
Benodet is situated at the aperture of the Odet and is home to an attractive sandy beach which is surrounded by various shops and amusements. It has a beautiful marina which must be walked around to take in the great views from Benodet and a promenade which is lined with palm trees to make it feel like that true beach setting.
Overall, the Brittany region offers many different and interesting beach resorts and seaside towns which are all perfect examples of what this region has to offer. It is an area which is cherished for its stunning beaches and spectacular views and that is why it is a popular place to visit for many holidaymakers.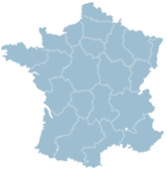 Select a location on the map to display properties within the region.