Five of the best vineyards in France
« Back to Articles - Date Posted: 25/11/2015 1:11pm by Alison Cummings
One of the major attractions in France is the country's beautiful vineyards. France is famous for its exquisite wines and as the largest producer in the world, it's only natural that a visit to one of the varying wine regions is a must. If you're travelling to France and want to discover the best vineyards in the country then take a look at our five favourite hotspots.
Chateau Mouton Rothschild
Bordeaux is perhaps the most well-known wine region in France, thus, it should be no surprise that this vineyard is on our list of the best in the country. Rich in history and located in Medoc, Bordeaux, this winery offers an insight into the technical aspect of making wine, as well as a history of the family estate. Originally a family with interests in banking, the Rothschild family purchased their vineyards as an investment and have been producing wine since the 1800's. Visitors to the winery can look forward to exploring the Art Museum along with tasting some of the finest red wines in the country.
Domaine de l'Estagnol
Situated in Bandol, Province, this vineyard is one of the smallest in the area, however, don't expect that to be a factor in quality. The wines here are refreshing and delicate, and you can enjoy a beautiful bottle from around 13 euros.
La Mason des Vignes
Located in Bordeaux, this vineyard combines wine with a 17th century house that provides charming accommodation for visitors. Overlooking the 15 hectare winery, those staying at the residence can expect cosy and modern interiors with stunning outdoor scenery. Five differing grape varieties are central to the vineyard, so guests can expect a glass of elegant wine to complement their trip.
Chateau Pape-Clement
The oldest vineyard in the Bordeaux region, the 30 hectare winery produces a variety of incredible wines. A tour of the vineyard is highly recommended and those intending to discover this delightful area can expect picturesque views alongside tasting delicious wines. If you're planning to visit without using a tour company, ensure that you book early as many vineyards require pre-booking.
Chateau de Saint Martin
Located near to Les Arcs, covering 18,000 hectares, this vineyard not only promises a view of excellent wine production, but also offers accommodation and space for private functions like weddings. Founded in the 18th century, visitors can expect to discover an array of wines alongside fascinating culture and heritage.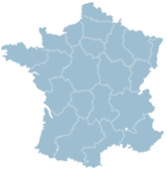 Select a location on the map to display properties within the region.