Beaujolais Nouveau - still going strong!
« Back to Articles - Date Posted: 29/08/2012 1:33pm by Alison Cummings
The long-awaited release of each year's Beaujolais Nouveau comes at the strike of midnight on the third Thursday in November. From the little villages and towns in Beaujolais, over a million cases of Beaujolais Nouveau begin their journey through a sleeping France to Paris for immediate shipment to all parts of the world. Banners proclaim the good news: Le Beaujolais Nouveau est arrivé! "The New Beaujolais has arrived!" One of the most frivolous and animated rituals in the wine world has begun.
This "Beaujolais Nouveau Day" sees heavy marketing, with races to get the first bottles to different markets around the globe. The race to be the first to serve this new wine of the harvest has seen it carried by motorcycle, balloon, truck, helicopter, Concorde jet, elephant, runners and rickshaws to get it to its final destination.
Beaujolais Nouveau is intended for immediate drinking and not for keeping. It is bottled only 6-8 weeks after harvest and this method of production means that there is very little tannin. The Beaujolais wine-producing region runs from Lyons to the Basse-Bourgogne (lower Burgundy), and is filled with great villages and its roadways are dotted with scenic vineyards. This is a glorious time to visit this part of France, with the stunning autumnal colours. In November the weather can be bright and fresh, or, with a bit of luck, even still warm in the south.
There are about 120 festivals to honour the arrival of this enticing young wine in the Beaujolais region alone, not to mention throughout France and across the globe. There are several festivals in the Beaujolais region, including:
Beaujeu:
Beaujeu has its Sarmentelles festival, which begins each year at 5 p.m. the day before the wine's release. It features a tasting of the region's wines, followed by a torch-lit procession and the release of the Beaujolais Nouveau. The festivities continue through the weekend. Beaujeau is the historic capital of the Beaujolais region.
Tarare:
Tartare hosts La Fete de la Beaujolais Gourmand, commencing the day before the release and running through the weekend. The festival features five days showcasing gourmet food and wine.
Villefrance:
Villefrance will be home to les Calades, a festival featuring the newly released wine and music..
If you can't be there in France for the much-anticipated midnight release, don't despair, there may be somewhere close to you that also celebrates the arrival of Beaujolais Nouveau. Alternatively, visit your local French restaurant or wine shop to get a bottle and join in the fun.
Santé!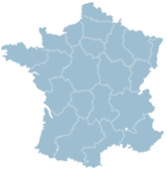 Select a location on the map to display properties within the region.