Are you going to the Cannes Film Festival in May?
« Back to Articles - Date Posted: 05/05/2017 10:13am by Alison Cummings
It's a new year, which means one significant thing for the film industry and avid film fans alike, the highly prestigious and hugely popular Cannes Film Festival will return this May. This annual event showcases everything from films to documentaries and includes a huge variety of films, from those with obvious audience appeal to incredible short films. It also showcases films that may be less commercially popular but have a specific motive or aim. The original festival was supposed to be held in 1939 under the direction of Louis Lumière, but as a result of the war it did not actually begin until 1946, and it has been an extremely popular event ever since.
The films are divided into many categories. The first is the 'Competition' where the films with audience appeal feature. There is also the 'Non-Competitive' section, which may not be at the Jury's discretion but still includes some of the most popular films. The films with perhaps less audience appeal, but a more specific focus are included in the 'Un Certain Regard' category. The Jury is normally made up of a variety of directors and actors who decide on the films in Competition categories.
The increasing number of stars who flock to the festival every year means that the media attention surrounding the festival has been rife since its inception. Although the festival is an invitation only event, many steps have been taken in the last few years to engage and interact with the public as much as possible, making this an unmissable annual event in Cannes. Not only are many of the films that are screened at the festival released the same day in French cinemas, there are also open air screenings in Cannes almost every night. Equally, since 2010 a live broadcast of the event and the media coverage has also been shown in cinemas. There is also the occasional world premiere held in the open air.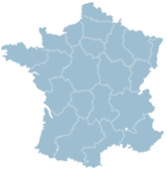 Select a location on the map to display properties within the region.