Anjou Vélo Vintage - see the Loire in retro
« Back to Articles - Date Posted: 07/02/2014 1:19pm by Alison Cummings
One of the most recently established and yet widely known and revered events in France is the Anjou Vélo Vintage. Held at the start of summer, this unique cycling event combines four diverse routes with compulsory vintage attire, and is adored by both cycling and retro enthusiasts. The routes boast many different landmarks including the Royal Abbey of Fontevraud, the Châteaux at Brissae and a variety of incredible vineyards, making this far more than just a cycling event.
The four routes cater for all types of cyclist. For those wishing to have a leisurely ride, there is 'The Discovery'. This slow paced route is specifically designed so the riders can appreciate the incredible scenery of the Loire Valley, which includes beautiful castles and villages. 'The Stroll' takes this route a little further and is perfect for those who still wish to take a relaxed approach, but do not get tired after 30km! This will take you through the countryside of Saumur, with the route including vineyards and even more villages adorned with castles, mansions and ancient parks. For the more serious cyclists, for whom distance is no deterrent, there is 'The Hike', which is a faster paced and a lengthier route. However, there are still opportunities to drink in the glorious scenery at Brissae, particularly through an exploration of the Loire Valley with its enormous castle. Finally there is 'La Rétro' itself: a 150km race for serious cyclists who do not mind a bit of healthy competition. With the celebration of the 100th Tour de France last year there will be some format changes to this year's course, making it one of the toughest yet. Aside from its obvious identifier of everyone head to foot in retro and vintage clothing, the race also boasts a wide variety of bikers, including previous Tour de France victors, and bikes, featuring Penny Farthings: the ultimate vintage bike!
Since 2011 the Anjou Vélo Vintage has been held in Saumur in June, this year between 28th and 29th. Although the event is relatively new, this has not stopped it from gaining mass interest. Last year over 2500 cyclists gathered to participate in the race and 20,000 visitors from 20 different countries turned up to witness this fantastic event. It has also sparked media interest from both local and foreign press, through its recent introduction and overall style. With the media interest already rife, and likely to expand in the future, why not get involved in this unmissable event from its humble beginnings, before it quickly becomes one of France's most popular events. Its spot at the end of June also makes it perfect to incorporate with an amazing French summer holiday, where you can experience this event along with the charming village of Anjou. The registration for this year is now open, so you can sign up for La Rétro now. Or, if you prefer, you can just be a spectator of the routes littered with historical attractions and stunning landscapes.
See holiday rentals in the Pays de la Loire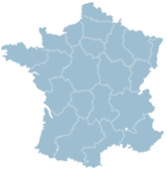 Select a location on the map to display properties within the region.