An introduction to the most beautiful villages in France
« Back to Articles - Date Posted: 26/07/2016 6:17pm by Alison Cummings
France is populated by dozens of beautiful villages, all of which make for perfect getaway destinations. If you don't have quite enough time to see every single one on your next holiday, here are a handful of top-picks that may help you narrow down your options.
Gordes
Carved into the hills of the Monts de Vaucluse 35km from Avignon, this charming village tempts visitors with majestic views and ancient stony facades around every corner. Gordes has been painstakingly preserved to retain its unique appearance and culture, and today exists as a vibrant testimony to the achievements of the Middle Ages. Travel through the maze of calades (pathways) and find yourself surrounded by Mediterranean splendour. Base yourself in a villa nearby so you can travel to the world-famous Senanque Abbey and immerse yourself in the lavender fields of Provence.
Honfleur
Located on the northeastern coast, this quaint town boasts an incredibly rich history that belies its tiny size. The glittering harbour once welcomed traders from locations as diverse as Canada, Africa, and the Azores. Today, it is a bastion of French heritage, offering visitors lovely views, pleasant architecture, and the perfect summertime retreat from Paris just down the Seine. Take in the sea air as you stroll through the traditional market on a Saturday; or follow paths once traversed by Monet, Boudin, and Baudelaire - all of whom adored this jewel in France's crown.
Hunawihr
Venture to Alsace-Lorraine and prepare to fall in love with this village situated on an important wine route. Beverage connoisseurs will find no shortage of delights here: the rustic 16th century houses lie between gorgeous fields like a town out of a fairy tale - and just in case visitors don't already think they are dreaming, this picturesque locale also features a butterfly garden amongst its unique attractions.
Sixt-Fer-a-Cheval
Those in search of a village merging man-made and natural beauty should look no further than Sixt-Fer-a-Cheval. Surrounded by the breathtaking cascades of the French alps, this village looks like the perfect sleepy mountain hideaway but offers so much more: horseback riding, rock climbing, hiking, and even paragliding are all within the realm of possibility here. This site truly caters to both leisure and adventure seekers.
These villages are just a few examples of the beauty that awaits you in the French countryside. Why not rent a home or villa from which to explore as many as you wish? Enjoy total freedom to familiarise yourself with the best that France has to offer.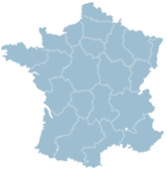 Select a location on the map to display properties within the region.