A Guide to The Village of Seillans
« Back to Articles - Date Posted: 06/03/2016 4:27pm by Alison Cummings
France is known for its exquisite scenery and the tiny village of Seillans is no exception. This picturesque village is one of the most beautiful in the country, so it's no surprise that many tourists choose to visit this incredible area.
Located in the South East of France, in the Var region of the Provence-Alpes-Cote d'Azur, this small village boasts narrow streets, astonishing fountains, winding steps and charming flora. The contrast to the surrounding countryside is Seillans medieval architecture; a fine example of the history of the area. Arched pathways, courtyards and cobbled streets all make an appearance in Seillans and provide just a few reasons as to why this village is so popular with visitors.
The local church and Feudal Castle are just two attractions to note, however, for those who are more active, hiking and climbing are very popular pastimes. For those who prefer to take in the local scenery, a wander around the village will enable you to discover some breath-taking scenes.
The majority of hilltop villages in France are only accessible on foot, so sensible shoes are highly recommended. For a thorough tour of the area, it's best to begin in the square Place du Thouron, where the tourist office is situated. From here, you can pick up a guide to help you navigate your way around the village.
The guide will allow you to start your journey at the Route de la Parfumerie, which commemorates the Viscountess de Savigny de Moncorps. During the late 19th century, the Viscountess saw the village of Seillans overcome by two epidemics of Cholera and phylloxera, which killed many and devastated the local vineyards which were crucial to the local economy. Inspired by local perfumeries, the Viscountess purchased hundreds of thousands of jasmine plants, roses, mint and lavender, and set about launching her own perfume and cosmetics. During the First World War, she transformed the perfumerie into a hospital to care for the injured. Though the perfumerie recently ceased trading, it's famous in this area for recovering its struggling economy.
The tourist guide also takes visitors past several hotels and restaurants, as well as the Church of St Leger and the grand town hall. Elsewhere in the village is a small farmers market, and yearly jazz festivals for those interested in music.
View one of our idyllic holiday properties in Seillans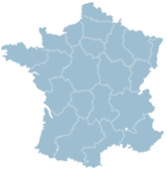 Select a location on the map to display properties within the region.