A guide to the village of Bargemon
« Back to Articles - Date Posted: 30/03/2016 4:54pm by Alison Cummings
A medieval village, located in the Var department in the South East of France, Bargemon is a charming and scenic town. Situated at 500m altitude, and residing close to Sainte Croix and the Verdon canyons, this beautiful location is perfect for tourists and adventurers alike.
Enriched with history, Bargemon is surrounded by olive groves. Inside the village itself, you'll discover small, narrow streets, square plazas and cultural landmarks. Filled with restaurants, cafes, and 12th century architecture, you'll find everything you need for a perfect getaway, as well as pursuits for singles, couples and families or all ages.
Situated around 75 minutes from the nearest airport, Bargemon is the ideal place for those who like to seek adventure. Anyone who loves walking will revel in the winding streets and picturesque views. An array of fountains are dotted throughout the village, as well as lush greenery, to create a tranquil and relaxed aura.
Two bakeries, a butcher and grocer are present, offering goods for both locals and travellers who need a bite to eat. If you require a supermarket, you'll have to travel to the town of Draguignan, which is around thirty minutes away, however, don't let that put you off, as you'll find the majority of things you require right in the village.
The square of Place Philippe-Chauvier boasts two bars, which are the perfect place to grab a cool, refreshing beverage, while three restaurants provide a range of dishes to cater for a variety of tastes. For delicious, French cuisine, head to Chez Pierrot for one of the best dining experiences in the village. Here, you'll find tasty meat dishes, alongside pasta and garlic fromage frais. Alternatively, opt for pizza at the L'Arlequin for an affordable, yet appetising meal.
For the active, a walk in the hills is a must. If you want to venture outside of the village, the Grand Canyon du Verdon is around an hour away and presents an opportunity to partake in a boat activity. If you would rather stay in Bargemon then why not attend the weekly market, packed with clothes, food and crafts. Elsewhere, there is an exquisite antique store selling an array of gems, as well as three art galleries for those who wish to view some local works.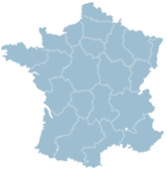 Select a location on the map to display properties within the region.