Exploring wine in France
« Back to Articles - Date Posted: 06/05/2014 3:02pm by Alison Cummings
There are many things that the French do well, but one of the most popular would definitely be their wine. Every year, a number of those visiting the country will use the opportunity to stock up on fantastic wine at great prices, with many making the trip specifically for this reason. If wine is one of your passions, why not go a step further on your next visit and include vineyard tours in your itinerary?

There's no doubt that France is one of the greatest wine producers on the planet. Different parts of the country are known for different wines, with both large and smaller scale wine makers, as well, of course, as the champagne houses working their magic. Certain areas of France are known for their wines, and if you're planning on staying in one of these regions, you'll find it easy to find a vineyard tour to take in while you're there, and without an excessive price tag too.
Alsace
The Alsace region is known for its Riesling, Gewurztraminer, Sylvaner and others, and is often thought of as producing German wines, but made in the French way. Whether you're on a bike or in a car, Alsace's Route de Vin is the perfect wine tour of the area: a 170km route that will take you past plenty of vineyards and roadside wine cellars where you can stop for tastings and tours.
Bordeaux
Bordeaux is famous for its reds, and perhaps one of the region's most well known wineries is the Château Mouton Rothschild. The famous Paulliac estate is open for visits and tastings by appointment only. If you're staying in Paris, it's easy to get out to the Champagne region to find out more about this world renowned sparkling wine. In the Epernay/Reims area, the top three champagne producers are Moët & Chandon, Perriet-Jouet and Taittinger, and in addition to visiting the vineyards, you can also pay visits to their cellars, where you can enjoy guided tours and tasting sessions.
Provence
Head to Provence, and you'll be able to enjoy a wine tour on two wheels. The Terravantoux village co-operative in Villes-sur-Auzon, just east of Carpentras, is a great place to enjoy a vineyard tour, and you'll also be able to hire a moped from them to explore the surrounding areas.

With any vineyard tour, you'll also be able to buy wine to drink on your holiday or to take home, often at a fraction of the price that you would pay elsewhere. If you're planning on heading to one of France's major wine regions, you'll have two options: explore the vineyards on your own, or book tours through a company that specialises in wine tourism. While the latter will be more expensive, it will introduce you to some of the region's finest wineries, but with the former you'll have the satisfaction of exploring the region on your own, and doing things at your own pace. Just double check opening times before you visit, as some vineyards will be closed to visitors at certain times of year. A votre santé!
Follow Alison Cummings on Google+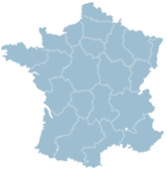 Select a location on the map to display properties within the region.