7 summer music festivals in France
« Back to Articles - Date Posted: 06/06/2016 1:02pm by Alison Cummings
If you thought France was just about wine and countryside, then think again. Some of the best music festivals are based in the country, and they're well worth attending, especially if you're thinking of making holiday plans. France is a beautiful country, boasting exquisite scenery and amazing sights. However, if you want to experience some of the best music festivals, here are some to consider.
Nuits Sonores
Beginning on the 4th of May, this four day music festival is based in Lyon, France. Concentrating on electronic music and the fusion of design, graphics and architecture, the festival occurs over 40 varying locations throughout the city. Swimming pools, galleries and land are transformed for the festival, as music from new talent, established acts and local acts are brought together.
Bout de Monde
Held every year in August, the Bout de Monde festival is held in Crozon. Focusing on world music, this festival attracts a variety of revellers from around the globe. Not only is the music incredible, the scenery is fantastic too.
Marvellous Island Festival
Making its return to Paris, the Marvellous Island Festival takes place on the 14th to 15th of May on Torcy Beach. Enjoy the electro music, spectacular light shows and jungle themed dancefloor as this two day festival includes camping and stunning scenery by the lake.
Villette Sonique
Another Paris festival for rock and electro music lovers. This festival is located in the Parc de la Villette and offers a completely free programme of music on Saturday and Sunday afternoon. Check it out on from May 27th to June 1st.
Weather Festival
From June 3rd to 5th, the Weather Festival takes place in Paris in the Bois de Vincennes. This house and techno music extravaganza features over 70 acts on 5 stages. Over 35,000 people attended the festival in 2015 and 2016 promises to be even better.
Download Festival
This popular rock and metal festival makes its French debut in Paris on June 10th. The two day event promises a lineup just as incredible as its UK version. There's no doubt that some of the biggest rock and metal acts will be playing here, with Iron Maiden and Rammstein headlining.
Paris Hip Hop Festival
This celebration of hip hop and urban music occurs at venues throughout Paris from May 20th to June 5th. This festival has grown massively since its debut in 2005, with some of the biggest hip hop acts set to attend.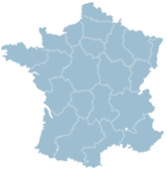 Select a location on the map to display properties within the region.