5 Reasons to visit Biarritz this Summer
« Back to Articles - Date Posted: 03/02/2016 2:53pm by Alison Cummings
A town on the coast of South West France, Biarritz is a popular seaside location that boasts many amazing attractions, as well as beautiful picturesque views. Summer is the perfect time to take a trip to this pretty tourist town, though, if you're still considering your travel plans, here are 5 reasons why you should definitely visit Biarritz this summer.
The surf scene
Biarritz is famous for its annual surfing competition and this is where surfing became popular in Europe in the 1950's. Many beaches in the resort have surfing schools, which are ideal for those new to the sport. The beautiful beaches make it perfect for anyone who wants to learn to surf or for those who prefer to sit and watch the waves.
Exquisite food and drink
Biarritz is bursting with chic restaurants and delightful food establishments. The Biarritz food market is home to some delicious food choices, such as seafood, cheese and wines from the region. Enjoy a tour around each stall and sample some of the local delights. The vibrant atmosphere is a chance to immerse yourself in the Basque culture.
The restaurants and cafes in Biarritz are also highly promising. Casa Juan Pedro is a small seafood restaurant, serving delicious tuna or sardines. Alternatively, head to Bar du Marche or Bar Jean for exquisite tapas or for the finest French cuisine, make Restaurant le Pim'pi your destination.
Golf
For any golf lover, a trip to the second oldest golf course in Europe shouldn't go amiss. Located close to the centre of Biarritz, the 18 hole Biarritz Le Phare Golf Course boasts stunning playing conditions due to it being situated between the sea and mountains. A bar and restaurant are provided for your entertainment, ensuring that a day trip to the range is the perfect day out.
The beaches
The beaches are of course Biarritz's jewel in its crown. La Grande Plage is a striking beach with many bars, restaurants and activities residing close by. The best place for a day of sunbathing, you can hire a stripy breach tent for just under ten euros.
Culture
Biarritz offers a taste of French culture to all its visitors. The Musee de la Mer showcases the local marine life, as well as providing exhibits on the history of whaling in the area. Meanwhile, the local lighthouse, the Phare de Biarritz allows you to climb to the top to experience striking views of the coastline.
See our beautiful holiday properties in the Pyrennes-Atlantiques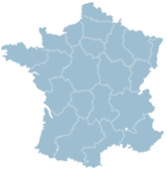 Select a location on the map to display properties within the region.