Delightful farmhouse with a private diamond shaped pool located close to the village of Aubignan in Provence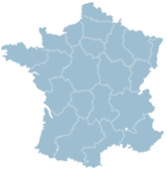 Select a location on the map to display properties within the region.
General Description
Located close to the village of Aubignan in Provence, South of France, this lovely holiday home features 6 bedrooms and sleeps 12 people. Concealed in beautiful and serene greenery, the stunning farmhouse exhibits the charm and solace of the French countryside. Enriched with vine covered terraces and a private diamond shaped swimming pool measuring 10m x 6m, this property offers rural allure alongside tourist appeal.
Just 20 minutes away from Avignon, this residence boasts four bathrooms, a living room, gaming room and Wi-Fi for your communication needs. The extensive grounds are ideal for those with children, with the outside table and chairs offering the perfect setting for alfresco dining.
Accommodation Facilities
Bedrooms:
6 bedrooms
Bathrooms:
4 bathrooms
Kitchen:
Fully equipped kitchen
Living Rooms:
Living room
Other Rooms:
Gaming room
Linen/Cleaning/Towels etc:
Household linen is provided
Outside:
Private diamond shaped swimming pool (10m x 6m, depth of 1.10m to 2m)
Terraces
Car park
Garden tables and chairs
Additional notes (if any):
Cleaning included during stay - 1 x 3 hours a week
Final cleaning - €100
Garden and pool are maintained by owners service
Pets are allowed on request
Local Area / Activities
800 metres from Aubignan where small shops and supermarkets are located. Access - TGV train station in Avignon, 20 minutes away. Avignon or Marseille Provence airport. Tennis club - 800 metres. Horse riding centre - beside house. Golf courses - 20 minutes.
The peaceful outskirts offer a wonderful atmosphere for taking a relaxing stroll or exploring the countryside. If you would rather venture further afield then a range of exquisite locations reside close by. The local horse riding centre is next door to the property meaning you can become acquainted with your animal neighbours any time you desire. 
If horse riding isn't your pursuit of choice, then the nearest golf course is only 20 minutes away. With Carpentras just a few kilometres from the farmhouse, there is plenty to see and do. The local village of Aubignan is within 800 metres, boasting several shops for tourists to browse. This dainty area contains many hills and marshes, with a local market held every Saturday morning during April to October.
If you have a desire to view the local vineyards, then both Aubignan and Avignon are the places to be. Provence is extremely well known for its prestigious vineyards as the climate and soil here offer the ideal conditions for wine production. This area in particular is famous for producing Cotes du Ventoux wines; a light, fruity and refreshing wine comprising of manly 80% red wine. 
The area of Luberon is bursting with character. Discover striking architecture, harmonious villages and vast plains. Luberon Regional Nature Park is one of the main tourist attractions here. This natural and unspoiled space displays rare flora and animals with Luberon Mountain being an impressive sight for both hikers and sightseers.
A few popular picturesque landscapes to explore are Crest of the Luberon which presents a nature reserve for sheep and local fauna and the Vale of the Aiguebrun enriched with plants, rocks, caves and cliffs, and is home to various flora, including downy rockroses, honeysuckle and lavender.