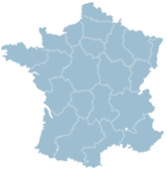 Select a location on the map to display properties within the region.
1 of 4 Gites near Dinan with indoor Pool
General Description
1 of 4 Gites with 24 beds + cots with indoor heated pool in quiet setting near historic towns and safe sandy beaches
La Vieille Ferme, as its name implies, this Gite was the old farmhouse when we bought La Julerie as a derelict farm in 2000. When our son did the conversion work he knocked out an interior wall on the ground floor and made the 2 rooms into one, this Gite now has the largest ground floor salon of any of our Gites and there is room for up to 24 people to sit and dine together, and still room for the children to get down from the table and to sit and play games or watch TV .
Accommodation Facilities
Bedrooms:
Upstairs there are 3 bedrooms; 1 is a double, another has 2 single beds and the 3rd one has bunk beds and also a cot. There are bedside tables/shelves with lamps,
Bathrooms:
On the first floor there are 2 bathrooms, one has a bath and a basin whilst the other one has a shower, basin and a toilet; there is also a separate toilet on this floor, whilst on the groundfloor there is a washroom with basin and a toilet.
Kitchen:
All of our Gites have an open plan ground floor living area with corner kitchens; when doing the conversion work our son told us he was doing this so that "mums wouldn't get left in the kitchen working whilst the rest of the family were enjoying themselves. the kitchen is fully equipped with a full range of electrical appliances including 4 hob hotplate, an oven, microwave, mixers, kettle coffee maker, toaster etc.
Living Rooms:
Sofa, armchairs occasional table centre around a fireplace with a wood burning stove making it an ideal gite to rent throughout the year, TV and DVD player.




Linen/Cleaning/Towels etc:
Our tariffs are fully inclcusive.
All bed linen, bathroom towels, swimming pool towels, kitchen towels etc are provided and changed weekly.

There is a selection of bicycles freely available for guests to use on a daily basis, some helmets are also provided
Outside:
La Julerie is set in about half a hectare (1 1/4 acres) of land which is down to lawn and the yard in front of the properties; it slopes gently to the south and is a natural suntrap. There is space for all guests to park their cars. As La Julerie is at the end of the public road, there is no passing traffic, in fact the surrounding roads are also very quiet, and at night time you are more likely to hear owls than cars!
There is a children's playstation with an elevated playhouse, slide swings and a fireman's pole, elsewhere there is another playhouse alongside a sandpit for the younger children; for everybody there is plenty of space to play on the grass or have a game of boules.
Additional notes (if any):
An outstanding feature at La Julerie is its indoor/outdoor heated pool; I say indoor /outdoor as the pool has glass panels which are opened during fine weather. The pool is over 9 metres long and 4 metres wide, with a set of Roman steps into it; it has a level bottom at a depth of 1.65 metres which means it is deep enough for a "proper swim" but you can still stand and look after your infants if you have any in the pool with you.For security reasons the pool can only be accessed through the adjoining games room. the other 3 sides of the pool are enclosed in a walled patio where there are sun loungers.
There is a table tennis table in the games room and a seating area and 2 changing rooms with showers and a toilet; there are plenty of sit on toys, and others for younger children and a supply of books English and French to read whilst you are at La Julerie.
Whilst this gite is nor suitable for disabled guests, Les Ecuries has been designed to welcome wheelchair users.


We have hosted some wedding receptions in this Games room for our guests; they have entertained up to 40 guests and the food has been provided by an outside caterer (details are available). If you book all 4 Gites, you are welcome to use this room for any similar function.
Local Area / Activities
La Julerie is about 18 km from the coast which offers a large number of excellent sandy beaches; the tides along this coast are some of the largest in the world with rises/falls measuring over 13 metres on the Spring Tides, so when the tide is out, it goes out a long way and this does restrict swimming. It does however make it very easy and pleasurable to walk over to the little island of Les Ebihans off the headland at St Jacut when the tide is out. There is car parking space on and near the headland and also a notice board with information on the tide times and also about making the crossing safely. Here I think it is worth pointing out that parking is free all around the coast, with a few exceptions (the Cap Frehel lighthouse area is one of them during the summer months). Parking is also free in most of the smaller towns; in larger towns such as Dinan where one pays, but even then it is not very expensive, it is still free between 1200-1400hrs so you can enjoy your lunch! What a difference to the parking charges applicable at virtually all UK beaches and in the towns. As the coast is a whole series of little peninsulas, there are many beaches facing different directions, so you can normally find a suntrap. We like the little beach just outside the harbour at St Briac for the late afternoon sun, other times we use the beaches at Lancieux. If you surf or wind-board the best beaches are just beyond St Briac and the wide open north facing St Luniare. There are several sailing schools on the beaches, including St Jacut and Lancieux; we can book classes for guests if so requested. Places of interest St Malo, a walled town, very popular with the yachting world and tourists. Whilst the walls appear old, the town was in fact flattened by the Allies during the War and rebuilt afterwards. The restaurants around the walls can be expensive but are considered to be good and are very popular. A walk around the walls is well worth the effort. Don't drive in within the walls unless you enjoy narrow one-way streets jammed with walkers! It is far better to "Park and Ride"; you will see signs for La Navette which is their park and ride. A warning, during the summer the bridge across the barrier on the river Rance will be closed on the hour for up to 20 minutes to allow the yachts to pass in and out of the basin. Take note if you are taking the ferry from this port. Dinard is a very smart resort; it was popular with the Edwardians and has a genteel splendour. It boasts a casino, and several lovely beaches. There is a Thalassa therapy complex (a good place for the wives to spend a ½ day enjoying the seawater therapy treatments whilst their husbands are playing golf!). Market days are Tuesday and Saturday, this is certainly the best market I know, you will find a good selection of all types of fish- especially shellfish and oysters- fresh fruit and veg including stalls of organically grown veg and all the usual items of clothing. It is a "chic market". Parking can be a problem but we can find a space with minimal waiting in the car park just to the northwest of the market place, there is also an underground car park beneath the market halls- parking is free. Dinan Our favourite, a medieval walled town with lots of shops and sights to see. Take a walk through the English gardens to view the river running alongside the town before taking the walk down the cobbled street Rue Jezrubel to the port. This street has an interesting array of craftsmen's shops and workshops. Market day is Thursday, again good selections of food, but the market has a much more urban feel to it than Dinard. Just below the car park near to the old Tower there is a garden area where there is an area with a miniature zoo (several small animals in enclosures) which will appeal to young children Dinan is 9 km from La Julerie, Dinard about 24 km and St Malo 30km. Places to visit less than an hour's drive from La Julerie Mont St Michel- the world famous abbey on top of a rocky outcrop off the coast Moncontour and historic small hilltop town. Rennes the capital of Brittany. Guingamp, a cultural centre and the home to the annual Breton folk Dancing assembly Both Dinan and Moncontour hold Medieval Fetes during July or August, alternating between the towns each year. Dinan in 2016 and Moncontour in 2017 etc. There are many restaurants catering for all tastes and pockets in the area, sea food and crepes being specialities
Price Guide
These prices are a guideline only, please enquire for prices for specific weeks.
Contact Information
Phone Number: 01373 471983
Key Features
Good for Groups
Swimming pool
Dishwasher
Washing machine
TV
English satellite TV
DVD player
Internet access
Fire / Stove
BBQ
Cot available
Close to local amenities
Walk to village
Wheelchair friendly
Suitable for young children
Pets considered
Near sea beach
Tennis nearby
Golf nearby
Fishing nearby
Watersports nearby