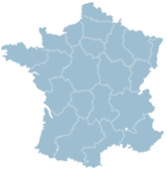 Select a location on the map to display properties within the region.
4 Gites near Dinan with indoor pool and close to beaches
General Description
La Julerie has proved to be very popular with families and groups who wish to holiday together, but who also want the privacy of their own gite; 1 Gite sleeps 4, 2 sleep 6 and 4th sleeps 8. One of the Gites has been designed to welcome disabled guests allowing wheelchair access. We have virtually all of the equipment parents with infants need when going on holiday. La Julerie is located in a quiet rural location near to Corseul and yet only 12 km from historic Dinan,18km from the coast with numerous safe sandy beaches and 30km from St Malo ferry port Adjoining the Gites is a large games room which gives access to the indoor/outdoor pool (its covers can be retracted in fine weather) the games room has table tennis, seating area and also changing rooms and a toilet. At times guests have used this room for their wedding receptions as it can seat 40 people. (guests have to book all 4 Gites to have exclusive use of this room) As a member of Brittany Ferries "Club Voyage" I am able to assist all of our guests in obtaining 20% discount on their tickets when travelling with this ferry company. Open all year, pool is normally heated till end of October
Accommodation Facilities
Bedrooms:
La Vieille Ferme has 1 double, 1 with 2 singles and 3rd with bunk beds and also a cot
Les Etables aux Hirondelles has 1 double, cot kept erected in rear alcove, but can be moved to other room which has 2 singles.
Les Ecuries also has 1 double and 1 with 2 singles; on its wide landing is a settee bed which is ideal for 1 adult or 2 children. Whenever we have a guest who cannot manage the stairs we place a single bed at the rear of the salon on the ground floor. the settee in the salon can also convert to a bed. whenever we place a bed downstairs, we also bring down the chest of drawers and a side table.
Le Grenier is the most luxurious gite with 3 en-suite bedrooms; on the 1st floor there are 2 double rooms, one has an en-suite bathroom and the other has an en-suite shower room; on the upper floor there is a family room with 2 single beds, a settee bed which converts to a full size double bed, and also a cot; its en-suite bathroom is everyone's favourite with its French styled stand alone bath, bidet, basin and toilet.
Bathrooms:
La Vieille Ferme has a washroom with basin and toilet on the ground floor whilst upstairs there are 2 bathrooms; one has a bath and a basin whilst the other one has a shower, basin and a toilet. there is also a separate toilet on this floor.
Les Etables aux Hirondelles has a bathroom on its upper floor with bath (with shower attachments), basin and a toilet, whilst downstairs there is a shower room which also has a basin and a toilet.
Les Ecuries has similar facilities to Les Etables aux Hirondelles but its shower room is large enough to allow wheelchair access, and the toilet is one for disabled guests..
In addition to the en-suite facilities described above for le Grenier, it also has a washroom on the ground floor with basin and a toilet.
Kitchen:
All of our Gites have an open plan ground floor living area with corner kitchens; when doing the conversion work our son told us he was doing this so that "mums wouldn't get left in the kitchen working whilst the rest of the family were enjoying themselves!"
Each kitchen is fully equipped with oven, hob, microwave, fridge/freezer, toaster, food mixer, coffee maker etc; all except Les Etables aux Hirondelles have dishwashers.
Living Rooms:
As stated above, all of the gites offer an open plan ground floor. When doing the conversion work our son removed an interior wall in La Vieille Ferme creating a large room where it is now possible for up to 24 people to sit and dine together, and still leave the settee and chairs in place in the salon area (which means the children can get down from table and play is this area whilst parents and grandparents stay at the table. whenever we have groups taking several of the gites, we put an additional dining table in this gite, and if yet more table space is required then a patio table, or table from another gite is brought in.
All 4 of the gites have separate salon areas with settees and armchairs with TV. and DVD players, whilst we have a few dvds, we do suggest you bring some of your own for the children,
Other Rooms:
One feature which we can offer at La Julerie which is very popular with all of our guests is the large games room which is adjoining Le Grenier; normally there is a table tennis in this room which is there for all to use; the room also offers a seating area, 2 changing rooms for the adjoining pool and also a toilet. There are numerous toys for younger children including several "ride on" ones; there is also a selection of holiday reading, including some interesting French books about Brittany, its people, occupations, climate, in fact everything, whilst others feature the wildlife.
At times we have had guests who have used this room for either wedding or anniversary parties as there is room for 40+ to sit and banquet together. To have use of this room for such a function, guests must rent all 4 gites as other guests would also have use of this facility. We can provide guests with the names of local outside caterers who have already workd for guests at La Julerie
For security reasons, the indoor outdoor swimming pool (its glass covers can be retracted in fine weather) can only be accessed through the adjoining games room. The pool is over 9 metres long with a level bottom at a depth of 1.65 metres, this enables parents to stand anywhere in the pool whilst assisting their children to swim, but it is deep enough for everyone to enjoy a "proper swim". There is a flight of Roman steps at one end of the pool. The pool is surrounded by a walked patio which makes an ideal suntrap where one can laze on one of th sun loungers and relax.

Linen/Cleaning/Towels etc:
All bed and bathroom linen, kitchen towels, serviettes etc are included in our tariffs, we also provide towels for use around the pool or on the beach; if guests are staying for 2 weeks or longer, all items are changed at the end of the week.
Whilst our tariffs are fully inclusive of all items including the "end cleaning" we do ask guests to leave the gites clean and tidy and to remove all waste and recyclable items before departing. whilst we have never yet withheld any of the security deposit to cover "additional cleaning" we do reserve the right to do this and do tell guests this fact.

We have virtually all of the equipment parents need when taking their infants on holiday which means you don't need bring items from home; besides cots, high chairs and stair barriers we also have a baby changing table, baby bath, bottle sterilising unit, swing chair and baby chair and a listening device etc.; where needed all kitchen cupboards and upstairs windows have locks which are reversible and only need be engaged when infants are in the property. We have also fitted barriers to the patios.

Outside:
Each gite has its own patio and lawned area; La Vieille Ferme has a patio to the front and to the rear and a large terraced lawned area alongside the gite, whilst the other 3 all have lawned areas in front of the gites and patios to the rear which are accessed through French doors. All have wooden tables and chairs and Weber or drum barbeques. During the summer these patios are normally in the sun for breakfast, shaded by the building at lunch time, but in the sun again for the evening; to the rear of the patios there are further lawned areas to each gite; beyond this, the garden then opens up to the large area (about an acre) of grass with trees and a hedge of shrubs; this is open to all guests.
There is a children's play station with swings, slide, fireman's pole and an elevated house with "look out positions", elsewhere in the gardens there is another playhouse and a sand pit.The badminton equipment is kept in a box with other games items in the games room.
As La Julerie is situated at the end of a public road, there is no passing traffic, in fact there is very little traffic using the neighbouring roads, which means it is a good place for children to learn to ride bikes. We do have a selection of bikes freely available for use on a daily basis, but we would suggest you bring your children's own bikes if possible.
Additional notes (if any):
Les Ecuries has been designed with a gentle slope to its wide front door to allow wheelchair access, the doors to the downstairs shower room are also wide so a wheelchair can be taken into this room if required. The double French doors to the rear patio mean that a wheelchair can be taken to this area, but access to the lawn is only available from lower down the garden near to the pool. However, there is a brick walkway the full length of the gites and games room which means mobility is easy. Whilst La Vieille Ferme has not been designed as "disabled friendly" a wheelchair can be taken into this gite if required.
We now have 2 separate lines providing WiFi ensuring full connection in all 4 gites .
To see full details of each of the 4 gites please refer to their separate adverts.
La Vieille Ferme ref LAV1129
Les Etables aux Hirondelles ref LES1149
Les Ecuries ref LES1131
Le Grenier ref LEG1147
Local Area / Activities
La Julerie is less than 2 km from the local village of Corseul where there is a Proxi shop, 2 bakeries, bars, a hotel with restaurant and a pizzeria and it is about 18 km from the coast which offers a large number of excellent sandy beaches; the tides along this coast are some of the largest in the world with rises/falls measuring over 13 metres on the Spring Tides, so when the tide is out, it goes out a long way and this does restrict swimming. It does however make it very easy and pleasurable to walk over to the little island of Les Ebihans off the headland at St Jacut when the tide is out. There is car parking space on and near the headland and also a notice board with information on the tide times and also about making the crossing safely. Here I think it is worth pointing out that parking is free all around the coast, with a few exceptions (the Cap Frehel lighthouse area is one of them during the summer months). Parking is also free in most of the smaller towns; in larger towns such as Dinan where one pays, but even then it is not very expensive, it is still free between 1200-1400hrs so you can enjoy your lunch! What a difference to the parking charges applicable at virtually all UK beaches and in the towns. As the coast is a whole series of little peninsulas, there are many beaches facing different directions, so you can normally find a suntrap. We like the little beach just outside the harbour at St Briac for the late afternoon sun, other times we use the beaches at Lancieux. If you surf or wind-board the best beaches are just beyond St Briac and the wide open north facing St Luniare. There are several sailing schools on the beaches, including St Jacut and Lancieux; we can book classes for guests if so requested. Places of interest St Malo, a walled town, very popular with the yachting world and tourists. Whilst the walls appear old, the town was in fact flattened by the Allies during the War and rebuilt afterwards. The restaurants around the walls can be expensive but are considered to be good and are very popular. A walk around the walls is well worth the effort. Don't drive in within the walls unless you enjoy narrow one-way streets jammed with walkers! It is far better to "Park and Ride"; you will see signs for La Navette which is their park and ride. A warning, during the summer the bridge across the barrier on the river Rance will be closed on the hour for up to 20 minutes to allow the yachts to pass in and out of the basin. Take note if you are taking the ferry from this port. Dinard is a very smart resort; it was popular with the Edwardians and has a genteel splendour. It boasts a casino, and several lovely beaches. There is a Thalassa therapy complex (a good place for the wives to spend a ½ day enjoying the seawater therapy treatments whilst their husbands are playing golf!). Market days are Tuesday and Saturday, this is certainly the best market I know, you will find a good selection of all types of fish- especially shellfish and oysters- fresh fruit and veg including stalls of organically grown veg and all the usual items of clothing. It is a "chic market". Parking can be a problem but we can find a space with minimal waiting in the car park just to the northwest of the market place, there is also an underground car park beneath the market halls- parking is free. Dinan Our favourite, a medieval walled town with lots of shops and sights to see. Take a walk through the English gardens to view the river running alongside the town before taking the walk down the cobbled street Rue Jezrubel to the port. This street has an interesting array of craftsmen's shops and workshops. Market day is Thursday, again good selections of food, but the market has a much more urban feel to it than Dinard. Just below the car park near to the old Tower there is a garden area where there is an area with a miniature zoo (several small animals in enclosures) which will appeal to young children Dinan is 9 km from La Julerie, Dinard about 24 km and St Malo 30km. Places to visit less than an hour's drive from La Julerie Mont St Michel- the world famous abbey on top of a rocky outcrop off the coast Moncontour and historic small hilltop town. Rennes the capital of Brittany. Guingamp, a cultural centre and the home to the annual Breton folk Dancing assembly Both Dinan and Moncontour hold Medieval Fetes during July or August, alternating between the towns each year. Moncontour is in 213, Dinan 2014 etc. Restaurants; there are many in the area catering for all tastes and all pockets; sea food and crepes are local specialities
Price Guide
These prices are a guideline only, please enquire for prices for specific weeks.
Contact Information
Phone Number: 01373 471983
Key Features
Swimming pool
Dishwasher
Washing machine
TV
English satellite TV
DVD player
Internet access
Fire / Stove
BBQ
Cot available
Close to local amenities
Walk to village
Wheelchair friendly
Suitable for young children
Pets considered
Near sea beach
Near river beach
Near lake
Golf nearby
Fishing nearby
Watersports nearby