Out and about in the South of France
« Back to Articles - Date Posted: 08/04/2017 1:57pm by Alison Cummings
Each year, thousands of people choose the South of France for their family holiday. When you see what this beautiful part of the country has to offer, its easy to understand why.
From stunning beaches and medieval villages in the hills, to the white horses of the Camargue and the ancient monasteries; there is so much diversity here and plenty to see and do.
The South of France boasts some of the best beaches, and with the summers here lasting until early October there is plenty of time to enjoy them. Two that come highly recommended are:
Port Grimaud beach

The seaside town of Port Grimaud can be found between St Maxime and St Tropez. The beach here is one beautiful long stretch of fine golden sand, and the gently sloping shallow sea makes it ideal for those with children.
Rayol Canadel-sur-mer

Going towards Toulon, just along the coast from St Tropez you will find the Rayol Canadel-sur-mer. This is a great beach for older kids as there is a diving platform out in the bay. Its not an easy beach to find, but the best way is via the track by the airstrip located at Cogolin, which is nearby. Just go past the campsite and continue over the hill. Be sure to take a camera, as the views are spectacular as you come over the other side.
Out and about in the South of France
Visit Fontaine de Vaucluse to experience the Museum of Santons and Provence, where you can see more than 2,000 hand crafted figurines.
With the biggest river delta in Western Europe, Camargue is well worth a visit. Expect to see some pink flamingos, white horses, wild boar and black bulls dotted across the landscape. You'll probably see some French cowboys as well, known as gardians.
The Meze dinosaur museum is something most kids will enjoy. The park has real-scale constructed dinosaurs throughout the park located amongst the trees, and sandpits where children can find the dinosaur eggs. You will find it in between Meze and Pezenas on the RN113 road.
The Aquarium Le Grau-du-roi is something all ages will enjoy. The collection of marine life in the aquarium is amazing, and the shark tunnel brings visitors face to face with these fearsome creatures.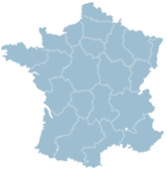 Select a location on the map to display properties within the region.