On the road to Stade de France
« Back to Articles - Date Posted: 19/02/2014 1:11pm by Tom Cummings
The Six Nations Championship is officially underway and with 100% win rate for France, Paris is one of the hottest places to be if you want to see this year's favourites battle it out on the pitch whilst turning friendship into rivalry.
As any other sports fan, Rugby supporters also have a pre match ritual and it usually involves singing, drinking and soaking up as much atmosphere as possible before the kick off. It is all part of the day out which unites fans across two countries, both desperate to see their team come away victorious.
On the 15th of March, France will host Ireland on what could potentially be the tournament decider. If you are lucky enough to be in the French capital for this classic, it is important to be prepared as the excitement starts to build hours before the match even begins. To help you get the most out of this Rugby experience, we have outlined some of our favourite places to stop and share the anticipation on the road to the Stade de France.
Thirsty Work
Walking to the stadium with 81 thousand people can be thirsty work, and a pit stop will be required. The Frog and Rosbif, McBrides and The Thistle are most popular with travelling fans and will offer lively entertainment to enjoy with friends and family. They are all within walking distance of Chatelet-les-Halles RER station
Built up an appetite
Around the Chatelet-les-Halles area you will find plenty of food vendors and relatively cheap fast food to keep you going on the way. However, if you want to sit down and enjoy a meal first we would recommend eating before you head towards the stadium. If you don't have time on the way, you can always pick something up when you get into the stadium, but remember there will be large queues. Away from the stadium, one of our favourites is Big Fernand, a small burger joint with the French treatment.

Tired Eyes
After a long and enjoyable day, home seems far away and when you want to rest weary legs it doesn't need to be far. Here are some places where you can spend a few days before and after the big match.
A wonderful apartment which sleeps up to 6 people in the heart of Paris

A spacious holiday apartment ideally located on a quiet residential street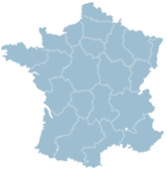 Select a location on the map to display properties within the region.