Champagne - All the culture of France in one place
« Back to Articles - Date Posted: 24/06/2013 2:42pm by Alison Cummings
France is the perfect place to rent a gite or a villa for a really memorable family holiday. Easily accessible and with scenery, architecture, wine and great cuisine, France is a wonderful choice for anyone wanting to enjoy towns, countryside, and everything this beautiful country has to offer. However, if it is a rich heritage, luxurious local wines and welcoming locals, then a holiday in Champagne-Ardennes is the right spot for you! The Champagne-Ardennes region of France is primarily famous for being the place where Champagne is made, and rolling vineyards occupy a great deal of the landscape in this area to supply the hundreds of millions of bottles of champagne that are produced in this region annually. Rivers and canals surrounded by the green countryside flow in all directions in this region, with barley, alfalfa, rapeseed and peas growing along the river banks, along with many other products. Perhaps people wish to visit Champagne-Ardennes to enjoy the luxurious world famous wine and witness its production process, but once here, there is so much more to see. Cathedrals, medieval churches, castles and idyllic villages are dotted around this region, and it also has the advantage of not being as overpopulated as some more obvious tourist spots in France. For those who enjoy golf, there are also several golf courses in the region, or for those who just want a relaxing walk, there are plenty of lakes to enjoy.
Holiday rentals in Champagne
Holiday rentals always offer a great platform to view the French countryside at its best, and the Champagne-Ardennes region is no exception! Fortunately, there is plenty of choice for gites or cottages in this region, and the warm and cosy atmosphere of a countryside cottage will provide the perfect refuge from those summer storms or the snowy and icy winters. Self catering accommodation can help to keep your budget down, and give you the option to try your hand at some French cuisine. The whole family can stay in a rented gite in Champagne-Ardennes, and there will be someone there waiting to welcome you when you arrive. Usually, gites will provide everything you will need, including towels, but it is a good idea to check beforehand. Renting a Gite in the Champagne-Ardennes region of France is the best way to see all the culture of the region, and escape the more temperamental weather conditions.
If you really want to enjoy pure luxury while staying the Champagnes home and namesake, then there are several options for renting hunting lodges, or larger accommodations with space for more people. Champagne is synonymous with luxury, and if you want to take advantage of these settings and the idyllic countryside, then there is the right rented accommodation for you here.

So rent a gite in the Champagne-Ardennes region of France, to enjoy the culture and the scenery with your whole family, and after the children are in bed, you can relax and enjoy the fabulous champagne that makes this region so famous.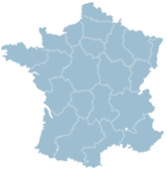 Select a location on the map to display properties within the region.